Find Your Perfect School
Premium Schools is an advertising-supported site. Featured or trusted partner programs and all school search, finder, or match results are for schools that compensate us. This compensation does not influence our school rankings, resource guides, or other editorially-independent information published on this site.
The field of paralegal studies is a fantastic fit for you if you enjoy solving riddles and have a talent for finding data. Although lawyers frequently take the spotlight away from paralegals, they do most of the legwork! According to the Bureau of Labor Statistics, the employment growth rate in this industry is faster than average.
The foundation of our judicial system is paralegals, who conduct research, write, and conduct investigations. You can get your online paralegal associate degree in as little as two years. Additionally, you can obtain a paralegal certificate and become a certified paralegal even faster if you already hold an associate degree.
Quick audio summary:
---
Quick Summarization:
Paralegals are essentially the legal assistants of lawyers and attorneys. Many states mandate that you earn a higher education degree in paralegal studies before becoming a paralegal. An online associate in the paralegal studies program will be your first step to entering the field.

You will learn about a range of legal-related topics in these programs while honing your paralegal skills. You'll gain knowledge of the American legal system and several common law traditions.
---
Methodology
The realm of legal practice is an interesting and challenging one. Get started with your career goal of becoming part of this field by obtaining an online Associate in Paralegal degree. To obtain the knowledge and competencies required in this field, choose only an excellent degree program from a reputable school!
The online Associate in Paralegal degrees on our list all share these features:
Coursework is delivered either 100% online or in a blended format, which makes it ideal for professionals seeking to earn an associate degree in the Paralegal field,
Rigorous coursework that features the foundational core courses in Paralegal Studies to prepare students for the bachelor's level or work opportunities where they are qualified,
Offer Transfer Pathways for students to allow for a seamless transition to the four-year bachelor's degree level following graduation from the associate program,
Offers financial aid to students requiring assistance with funding their associate degree,
Paralegal experts as online teachers and academic staff, all of whom exhibit expertise in the field or hold terminal degrees,
Accreditation is granted by the country's leading academic organizations that have set the appropriate standards for delivering online academic programs and granting online degrees,
Esteemed by the Paralegal community as evidenced by membership in relevant associations, and positive feedback and reviews from students
Read our Methodology for the full details of our ranking process.
---
14 Best Online Associate in Paralegal Degrees
Rio Salado College
Rio Salado College offers a state-of-the-art online Associate of Applied Science in Paralegal Studies that prepares students for the field through extensive law courses and skills training. This online associate degree prepares paralegal students for future civil litigation in courtrooms. Courses include:
Civil Procedures
Legal Ethics
Legal Writing
Criminal Procedures
Research Techniques
Property Law
While graduates can work in paralegal jobs with this online paralegal associate degree, RSC still encourages its students to pursue a BA or BS in the same field. Earned credits from this paralegal studies program will allow you to seamlessly transfer to a bachelor's program. This degree program also includes certification completion to help students become more competitive in the job market.
---
Nassau Community College
NCC's online Associate of Applied Science in Paralegal Studies provides students with the foundation knowledge they need to become proficient in the paralegal profession. This online paralegal studies program will train students to conduct legal research, understand the law, improve paralegal skills, and provide hands-on training in a legal setting. Elective courses include:
Tort Law
Family Law
Legal Writing and Analysis
Elder Law
Commercial Law
During the hands-on paralegal training, students will be supervised by an attorney to make sure that they're correctly performing the tasks of a paralegal professional. Additionally, this online paralegal studies degree requires its students to complete the certification program NCC offers.
---
Anne Arundel Community College
Anne Arundel Community College offers a 31-credit extensive Associate of Applied Science in Paralegal Studies taught by legal professionals with years of field experience. This online associate degree in paralegal studies also provides an accelerated program for prospective students who will enroll full-time in the program. The courses in the program will test the student's capabilities for a paralegal profession. Courses include:
Law Office Practice & Tech
Electronic Legal Research
Law Office Management
Criminal Law
Civil Law
Tort Law
Corporate Law
Aside from its online courses, students can also participate in internships at law offices to broaden their knowledge and network. Online students are granted access to an on-site law library and the Maryland Electronic Filing Systems training to further enhance their skills in storing legal documents electronically.
---
Eastern Kentucky University
The Associate of Applied Science in Paralegal Studies at Eastern Kentucky University is a 100% online program that gives paralegal students a chance to complete all coursework in an accelerated 8-week term. This online paralegal studies associate is a member of the American Association for Paralegal Education (AAFPE). Courses include:
Legal Research And Writing
Litigation
Legal Administration
Computer Applications
Family Law
Criminal Law
Probate Practice
Contract Law
EKU is one of the best schools for active military students to complete online degree programs. EKU gives a generously reduced tuition rate deduction for all its active military students. Almost half of the total tuition costs will be reduced.
---
University Of Alaska Fairbanks
The University of Alaska Fairbanks offers an online Associate in Paralegal, best for students who want to pursue careers in law enforcement and criminal justice. This online paralegal degree provides students a hands-on training and legal setting experience as part of the 60-credit hours curriculum. Courses include:
Family Law
Criminal Law for Paralegals
Probate Law
Legal Research and Writing for Paralegals
Civil Law
Introduction to American Government and Politics
In addition to paralegal studies courses, students will have to participate in internships with 150 hours of on-the-job training in law firms. This coursework will enhance your ability to perform in legal settings and improve your skills. You can also pursue certification to compete more in the job market or use the credits for an advanced law degree.
---
Clayton State University
Clayton State University's online Associate of Science in Paralegal Studies is a hybrid associate degree that requires its online students to take at least seven classes on campus and fulfill residency requirements. Four of the seven degrees must be the paralegal studies associate's core classes. Online courses include:
Law & Ethics
Civil Litigation
Legal Research & Writing
CSU offers affordable tuition rates, financial aid opportunities, and personalized attention for its students. The school provides internship programs for its students.
---
Drury University
The Associate of Science in Paralegal Studies at DU equips students with skills and an understanding of the American judicial system's rules. For its value, quality, and convenience, the Paralegal Studies program is among the best online programs in the nation. The curriculum includes classes in:
Civil Litigation
Tort Law
Family Law
Legal Research and Writing
Introduction to Law and Legal Reasoning
DU's online paralegal studies associate degree also provides a mandatory Professional Practicum. However, the practicum is not accessible until the student completes at least 45 credits of the entire associate program curriculum. The practicum experience typically takes place in a legal firm.
---
Liberty University
The Associate of Arts in Paralegal Studies degree at Liberty University is a 60-credit program that students can complete online. While students can transfer up to 45 credits into the online program, the school requires students to complete at least 15 credits at Liberty's School of Law for graduation compliance. Students learn about the profession through courses such as:
Legal Research
Legal Writing
Foundations of Law
Civil Practice
Liberty University provides free e-textbooks to online students to help them reduce the cost of education. Additionally, students can complete their paralegal studies online in an 8-week format.
---
Kirkwood Community College
Kirkwood Community College offers two associates in paralegal studies online: Associate of Applied Science and Associate of Arts in Paralegal Studies. The AAS degree is best for students who want to enter the job market immediately upon graduation. On the other hand, the AA degree is best for those who plan to pursue an advanced law degree.
While the two paralegal studies have different concentrations, they share the same goal. These online paralegal degrees equip students with the skills and knowledge they need to become successful paralegal professionals in the future. Coursework for both associate degrees includes:
Introduction to Law
Civil Litigation
Contract Law
Torts Law
Administrative Law
---
Lake Superior College
Lake Superior College's online Associate of Science in Paralegal Studies is an affordable online paralegal degree with numerous financial aid opportunities. This online paralegal studies degree can be completed in as little as two years. Coursework includes:
Civil Litigation
Law Office Applications
Legal Transcription
Word Processing Applications
Additionally, students learn about legal terminology, the American legal system, and procedural law. The Lake Superior Paralegal Studies Certificate program should be considered by those who want to enter the legal profession immediately. Individuals who earn an AS degree are well-positioned to further specialize in their understanding of the legal system and proceed to higher paralegal programs.
---
SUNY Herkimer College
The Associate in Applied Science – Legal Studies offered by the State University of New York's Herkimer College prepares students to take on various positions in law offices, banks, brokerage houses, or local government agencies that require paralegal skills. The program can be completed in person or entirely online through the SUNY Herkimer Internet Academy.
Courses in the program include:
Legal Research and Writing
Civil Litigation and Procedure
Torts and Personal Injury
Real Estate Law
Family Law
Administration of Estates
SUNY Herkimer also offers a related Paralegal Studies Certificate program that focuses on a number of core legal content areas that, include torts, property/real estate law, legal research and writing, criminal law, family law, and legal ethics.
---
University of Cincinnati
The University of Cincinnati's Associate of Applied Business in Law & Paralegal Studies (AAB) program. The fully online 60-credit hour degree program is approved by the American Bar Association (ABA). It covers extensivey the US legal system and equips students with the competency to begin their careers in the legal sector. Courses include:
Law Office Technology
Corporate Law & Business Organizations
Bankruptcy Law
Employment Law
Administrative Litigation
Civil Litigation
All classes in this online associate program are taught by licensed attorneys. The online setup also offers flexible scheduling options, and the program has six start dates throughout the year. The program can also be completed either full-time or part-time.
---
University of Arkansas Grantham
The Associate of Arts in Paralegal Studies program offered by the University of Arkansas Grantham is designed to build a solid knowledge foundation in legal support that students can apply to a variety of settings, be they in a small law practice, as part of a large firm, or corporate and government legal teams. The fully online program contains 60 credit hours and takes an average of 24 months to complete. Courses include:
Legal Ethics
Civil Litigation
Legal Research and Writing
Law Office Management and Technology
Torts
Contract Law
Upon graduation, students are expected to contribute crucial support roles to legal teams, which include legal research, conducting analysis, legal document preparation, and limited interview and investigative duties. UA Grantham is Distance Education Accrediting Commission-accredited.
---
Midlands Technical College
Midlands Technical College hosts an Associate Degree in Paralegal Studies degree program that can be completed in a blended format, wherein students attend online classes and meet in-person requirements. The ABA-approved program has a total of 61 credit hours and can be completed either as a full-time or part-time student. Courses in the program include the following:
Business Law
Torts
Family Law
Civil Litigation
Law Office Management
Wills, Trusts, and Probate
Midlands Technical College reviews students' transfer credits upon application. Under certain terms, the college may accept a maximum of two-thirds of the Legal specialty credit requirements from regionally-accredited, ABA-approved schools. This transferability component of the program is based on course content, hours of instruction, and grades earned by the student.
---
Best Online Associates in Law Enforcement Degrees
---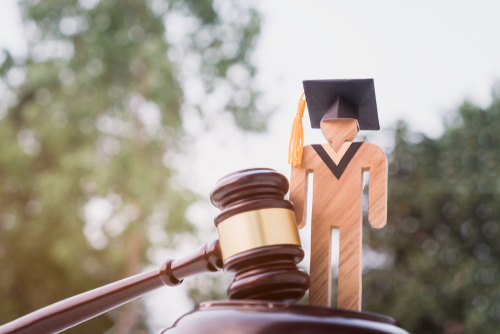 What Do Associate in Paralegal Programs Consist of?
Legal Research
All legal and paralegal education will include a course in legal research. In contrast to others, this research course emphasizes acquiring data from a legal perspective. Students learn how to recognize reliable sources and reference them when conducting research.
Overview of the American Legal System
Paralegal students will study the overview of the American Legal System during their first year, including court processes. Students will also discuss with their instructors about significant legal decisions.
Ethics in the Paralegal Profession
Students are made aware of potential ethical concerns with this ethics course. Students gain knowledge of ethical dilemmas and the best procedures for safeguarding crucial case information.
Contract Law
The basics of contracts are covered in this course, including contract writing and interpretation. Students are trained to spot typical contract red flags and weaknesses. They also study defenses and violations. Frequently, students have sample contracts to display in their portfolios when they finish the course.
Special Topics
Special topics include laws, such as the difference between wills and trusts, employment, and family law. This paralegal course will help students gain an extensive understanding of their concentration.
Associate in Paralegal Studies Common Career Paths
Paralegals or Legal Assistants
The most common employment choice is a paralegal or legal assistant with an associate's degree. A paralegal drafts documents, gather and organizes case exhibits and testimony, verifies the authenticity of legal documents, conducts research for the attorneys, and frequently represents the attorney in court.
Average Annual Salary: $56,230
---
Legislative Assistant
A professional who works as a legislative aide is a lawmaker. They aid in keeping an eye on possible legislation, formulate suggestions, provide guidance and advice, develop legislation, and carry out research. Legislative assistants provide legislators with legal counsel on the legislation's merits and inform them of how the proposed legislation will affect their constituency.
Average Annual Salary: $52,450
---
Law Enforcement Officer
Associates in paralegal graduates frequently choose to become law enforcement officers. Jobs are often available at all levels, from the neighborhood police agency to state and federal organizations. A large portion of what was learned in the paralegal studies degree is necessary for law enforcement professionals to understand the law and legal principles thoroughly.
Law enforcement officers patrol, investigate crimes, make arrests, and compile reports detailing crimes and criminals.
Average Annual Salary: $47,502
---
Compliance Officer
Compliance officers are responsible for keeping an eye on a firm's rules and laws and ensuring that the organization follows all applicable policies, laws, and contract requirements. These professionals keep an eye on the business and its workers, assist in creating policies, instruct staff members, and give management guidance on compliance requirements and their significance.
Average Annual Salary: $74,523
---
Essential Paralegal Skills
Critical Thinking
Critical thinking would come first and foremost. You'll be provided with arbitrary fact patterns for a specific client's case, and you'll need to use those to find relevant, essential primary sources that will support your legal contention. Without critical thinking, you cannot accomplish anything. To win your case, you must analyze the circumstances and identify the relevant legal principles.
Communication
Good communication skills are necessary for all legal practices. This skill will be crucial when interviewing a new client, creating petitions, speaking with witnesses, discussing significant issues with the supervising attorney, and the sort.
Paralegals are an established attorney's right-hand man when it comes to providing legal support services. They must serve as a crucial conduit between clients, experts, and opposing counsel during the litigation process.
A paralegal practitioner might benefit from effective communication skills to maximize productivity. Even though writing, listening, and speaking are all part of communication, writing abilities that are clear and convincing are the most crucial. This ability is crucial when drafting pleadings, motions, briefs, and legal memoranda.
Effective Research
Another crucial skill that a paralegal needs to have is research skills. In the current environment, legal research databases have surpassed traditional legal research techniques in popularity.
Strong investigative abilities are crucial in criminal, civil, and medical matters where you must find evidence, witnesses, and medical records, among others.
Computer Proficiency
Technology has permeated every industry, including the paralegal one. Technology's introduction to this industry has aided in the growth of new specialties like e-discovery and litigation assistance. A paralegal with advanced technological skills will undoubtedly stand out from the crowd.
Organizational Skills
Paralegals generally help attorneys and are tasked with maintaining records for many cases. The paralegals are required to manage a tremendous volume of paperwork and data. Paralegal professionals must be able to evaluate, classify, alter, and organize all of the legal data.
Maintaining all the pertinent information about the court proceedings and ensuring that the legal procedures are handled correctly would benefit from good organizational abilities.
Time Management and Multitasking
Paralegals typically work on several cases at once; therefore, time management and multitasking are skills they must master. They must be able to manage various situations involving various clients and ensure that all the procedures are adhered to.
A paralegal may need to simultaneously interview a client, draft a petition, and answer a petition. A paralegal professional must be completely aware of this.
Team Player
The legal industry values collaboration highly. You will need to work with various people, including clients, the senior attorney, other paralegals, and the opposing counsel.
Attention to Detail
Verifying briefs and memos, exhibit management, document review, keeping track of court dates, double-checking budgets, filing responses while keeping deadlines in mind, and other processes all call for meticulous attention to detail. A paralegal expert must therefore be knowledgeable in this area.
Frequently Asked Questions
Are Paralegals in high demand?
The American Bureau of Labor Statistics has forecasted that paralegal and legal assistant work opportunities will grow by 14% between 2021 and 2031. That translates into 45,800 more jobs being added to the industry. The reason for this development is that law firms are using paralegals to complete work that entry-level attorneys formerly handled to lower the cost of their services.
Similarly, businesses are expanding their internal legal departments and bringing in-house legal work.
What can a Paralegal do and not do?
Paralegal professionals should abstain from the unlicensed practice of law. Paralegals are generally not permitted to sign pleadings, take depositions, or represent clients in court. However, several state and federal administrative entities allow paralegal practice as long as they have passed the certified paralegal examination and are supervised by an attorney.
Can a Paralegal become a lawyer?
Absolutely! For various reasons, beginning your legal career as a paralegal will ultimately help you achieve your goal of becoming a lawyer.
Is being a Paralegal stressful?
Paralegal burnout is a real problem since being a paralegal is difficult. Paralegals frequently work for long hours, and their duties range from office administration to case research to drafting and editing legal contracts and documentation. The responsibilities of a paralegal directly affect how cases and matters turn out.
How long does it take to qualify as a paralegal?
One can qualify as a paralegal after 24 months through study and on-the-job training.
---
Key Points to Ponder
An associate degree in paralegal studies prepares you for entry-level positions in the legal profession, working under the supervision of a lawyer or an attorney. While some colleges offer entirely online associate degree programs, others only provide blended or hybrid options.
Additionally, schools could include internships to give students hands-on training. Paralegal studies associate degree programs typically take two years to complete.
A paralegal's responsibility is to support a lawyer or attorney. A paralegal is thus a crucial component of a law firm and other legal or governmental settings.
From preserving and organizing files to drafting and writing legal papers, a paralegal can handle various jobs in the legal industry. In addition to going to court to support an attorney, paralegals also conduct legal research and investigations for legal cases.
---
Related Resource: