Find Your Perfect School
Premium Schools is an advertising-supported site. Featured or trusted partner programs and all school search, finder, or match results are for schools that compensate us. This compensation does not influence our school rankings, resource guides, or other editorially-independent information published on this site.
Bachelor's degrees in Business Administration are an excellent choice if you seek a practical and widely applicable set of skills relevant to today's businesses and organizations. These online programs prepare students for careers as financial analysts, market research analysts, management consultants, or training specialists.
Related Resource: Best Online Bachelor's in Business Management with a Concentration in Business Law
---
Throughout the Business Administration undergraduate program, students are introduced to Business Administration-relevant subjects such as Statistics, Marketing, Public Relations, Economics, and Management. You also have the choice to pursue a master's degree if you want to enter into an educational career and promotional opportunities in large organizations.
Quick Summarization
An online Bachelor's in Business Administration is a practical, widely applicable degree that can help you succeed in the business world. You can use this degree to leverage a position as a financial analyst, project manager, market analyst, human resource manager, or become an entrepreneur.
Depending on your occupation, your duties and roles will vary. But primarily, you will be responsible for controlling a company's day-to-day operations in order to achieve its production and financial goals. As a business specialist or expert, you have to ensure operational efficiency.
Quick audio summary:
Methodology
Enroll in an online bachelor's degree that will fit your academic goals, personal preferences, and budget.
Each of the Best Online Bachelor's in Business Administration programs offered by top-rated business schools meets the following criteria:
Online or hybrid learning format offering easy access to classes and schedule flexibility,
Coursework encompassing business fundamentals, administrative trends, and ethical business practices across business types or organizations,
Allows for customizable programs so that students can integrate more courses into their Business Administration specialization,
Offers financial aid support, tuition discounts, and other arrangements to help online learners fund their undergraduate education,
Facilitated through innovative and easy-to-use online learning platforms for distance learners,
Regionally accredited,
Taught by seasoned experts in the field of Business Administration.
Please refer to our Methodology page.
15 Best Online Bachelor of Business Management with a Concentration in Business
Louisiana State University of Alexandria
Location: Alexandria, Louisiana
A 100% online Bachelor of Science in Business Administration with a concentration in management is made available at the Louisiana State University of Alexandria. They provide students with a broad understanding of the management discipline, with a special emphasis on Business Administration topics. As you are trained for business and financial occupations, you will lead, control, and organize different situations, projects, and assignments.
Emphasis is placed on developing decision-making skills and critical thinking in strategy development. This online degree in Business Administration is taught in small classes so you can learn more effectively.
As a business degree online student, you can take part in joining clubs such as LSUA Business Society, their Accounting Club, and Delta Mu Delta. After graduation, you can start your own business or land possible careers such as:
Business analyst
Market researcher
Operations Manager
Sales Agent
Business advisor
Human resource manager
Many career opportunities are available in government agencies, non-profit organizations, and educational institutions. Brush up your knowledge and skills in the fields of entrepreneurship, economics, finance, management, international business, and marketing in order to be an active contributor in diverse industries.
---
South College
Locations: Knoxville and Nashville, Tennessee – Asheville, North Carolina – Atlanta, Georgia – Orlando, Florida – Indianapolis, Indiana
The South College Bachelor of Business Administration (BBA) degree program with a Concentration in Management and Leadership is an online business degree fit to build and nurture business leaders of society.
Students take classes in:
Accounting
Economics
Finance
Marketing
You'll also explore project management and leadership practices, theories, and techniques across unique and changing organizational cultures. Develop your business administration, management, and leadership skills in this fully online BBA program. Finally, after graduation and completion, you take on different job roles that are highly in demand among modern employers today.
---
Sullivan University
Locations: Louisville, Lexington and Fort Knox, Kentucky
This BS in Business Administration with a Concentration in Management from Sullivan is one of a kind as it offers a solid grounding in the basics of business with a particular focus on management. This Business Administration online program can be taken either online or in person.
Some of the core courses are:
Financial management
Economics
Business law and ethics
Human resources
Principles of management
Marketing
Information systems
The management concentration of Sullivan's Business Administration bachelor's degree prepares students to become leaders within businesses. The instructors of this online program bring years of business experience to the classroom. They are hand-picked for their credentials and reputation, so every learner can relate and work effectively with their professors.
In addition to textbook theories, professors working in business and knowing how to apply them provide students with the fundamental skills they need. By the end of this degree, you can grow your critical thinking skills.
---
Texas A&M University
Location: College Station, Texas
Texas A&M University offers a Bachelor of Business Administration (BBA) degree in Management to prospective students around the world. If your dream is to work in one of the Fortune 500 companies, and other reputable corporations and businesses, you can add a bachelor's degree to your arsenal.
There are a number of career opportunities available to individuals with this online degree in business. You can join retail companies and government offices or pursue personal and family business ventures. This program is designed for students interested in problem-solving and helping business organizations navigate a competitive market and environment.
The courses included in this online Business Administration degree are designed to teach students about the entrepreneurship process, how to identify and/or develop entrepreneurial opportunities, and how to develop business plans. If you are interested in networking and leadership opportunities, join TAMUC's Management Club.
You may also use this as a stepping stone toward entering the field of Law. To introduce students to careers in law and business combining law and business, you can advance your degree and pursue a career in law thereafter.
---
Lewis University
Location: Romeoville, Illinois
As an online program that emphasizes hands-on experiential learning, Lewis University offers an online Business Administration degree program. Students become well-equipped to make more informed business decisions for businesses and organizations. The BS in Business Administration from Lewis University prepares you to lead businesses in a globalized world. You'll learn all the tricks and nuts and bolts of operating a business.
Internship opportunities are encouraged and supported for College of Business undergraduate students. This is one feature that makes Lewis stand out from other colleges. Their internships require active supervision and are designed to provide educational opportunities. As an online student, ensure to fit such opportunities with your learning goals. Students can also receive credit for internships.
Business faculty engage and mentor students on possible internship placements with the Office of Career Services. You can seek help and guidance to secure an internship of your choice.
---
Maryville University
Location: Town and Country, Missouri
Another ideal online business degree for you is Maryville University's web-based Bachelor of Science in Business Administration program. Business Administration is explored in this course. Business ethics and leadership are key components of undergraduate Business Administration programs.
The typical Business Administration curriculum may include these courses:
Human Resources Management
Financial Accounting
Principles of Management
Business Communications
Business Law
Managing business operations and making decisions are the functions of business administration. As you finish this degree, you will be equipped to learn how to achieve an organization's goals and objectives. Other than being an expert in business, you'll have wide knowledge in marketing, finance, human resources, and accounting, all of which are primary in business operations.
---
Franklin University
Location: Columbus, Ohio
Franklin University boasts its online Business Administration degree program that builds a comprehensive understanding of the core functions of a business, and the administrative work involved to ensure efficient operations.
A Business Administration major at Franklin lets you customize your impact. You can tailor fit every course so you will graduate as a business expert. You may use these courses to build on your professional experiences. In addition, you'll gain skills employers seek, including business strategy, finance, human resources, management and operations, and marketing.
As a Franklin online student, you gain access to credentialed practitioners who are willing to share their years of professional experience with you. Expect to take part in interactive classes where instructors are always willing to work alongside you on online platforms and mediums. If you want to transfer credits, you can maximize their seamless transfer process. You will have academic advisors assist with your transition.
---
University of Massachusetts
Location: Amherst, Massachusetts
Known for offering high-quality online programs, the UMass Amherst Isenberg School of Management offers an online Bachelor of Business Administration (BBA) Degree. This business degree assures you to start paving your career in business. If you are unable to attend classes on the Amherst campus due to work, family, or other commitments, Isenberg's Online Business Administration Degree Program is ideal for you. A degree can be earned at your own pace thanks to online learning's flexibility.
UMass offers opportunities for exploration and growth whether you're pursuing a degree or taking a stand-alone business course. When it comes to affordability, they have financial aid programs that are easy to qualify for and apply for. These would vary according to the status of matriculation and courses.
---
McKendree University
Location: Lebanon, Illinois
Choose to study an online bachelor of Business Administration in management offered at McKendree University. The same high standards are applied to students enrolled in McKendree's online business programs.
Management degrees online provide students with skills that support their professional and personal goals. No matter what your personal obligations are, you can take advantage of their flexible and convenient eight-week format. Furthermore, this online program emphasizes leadership, planning, and coordination.
After graduation, you can pursue careers in professional pathways in:
Private companies
Non-profit Organizations
Government agencies
In every organization, management skills are essential. During this program, students will be exposed to how businesses work. And you will learn the tools that managers use to make decisions in the workplace.
Management decisions are studied in an online management program at all levels of an organization, from high-level strategy to day-to-day operations. In this online format, students typically take two courses every eight weeks.
---
Purdue Global
Location: West Lafayette, Indiana
A bachelor's degree in Business Administration online is available at Purdue University Global. This degree prepares you for today's highly competitive business environment.
Here are some goals that are set out for students like you in this program:
Develop and hone your soft skills, such as critical-thinking skills, leadership skills, and communication skills.
Complete a capstone course to apply the concepts learned to real-world business management scenarios.
Be well-versed in diverse business aspects such as supply chain management, finances, accounting, operations, marketing, and human resources.
The staff at Purdue Global ensures that the curriculum reflects the most recent developments in business. They stay up to date with all the trends and changes in different industries.
---
Walden University
Location: Minneapolis, Minnesota
Walden University comes with an online bachelor's in business administration program that can help you develop the leadership skills you will need for long-term career success. With the help of cutting-edge digital business simulations, you will experience real-world challenges at work. What makes this online degree convenient and affordable is that its resources are all in online formats, leaving no room for additional costs and unwanted stresses.
BS in Business Administration students can also take advantage of a transfer-of-credit allowance, which can save them time and money. Here are some of the things to expect in this online business degree:
They come with supportive student support services and engaged faculty, so you have someone assist and help you as often as you need.
You can take advantage of a capstone project that allows you to simulate actual businesses and become challenged in business settings.
Take advantage of financial aid opportunities and college credits.
---
Excelsior College
Location: Albany, New York
Develop your managerial or corporate leadership skills with Excelsior College's online Bachelor of Science in Business program. Students are taught to strategize effectively for their employer and achieve measurable results through a bachelor's degree in business.
Performance metrics and strategic management are covered in this course. Students become familiar with the assessment of a company's strengths, weaknesses, opportunities, and threats. They also develop skills in the preparation of competitive analysis documents.
Get ready to earn the following skills as you graduate from this program:
Analyze business data
Read and prepare financial statements
Devise marketing and business strategies
Collaborate with other staff and team members
There is usually an eight-week or 15-week class period. Official transcripts and training, certification, and exam records must be submitted by all prospective students.
---
Dallas Baptist University
Location: Dallas, Texas
Dallas Baptist University requires you to enroll in 120 credits in their online bachelor of Business Administration degree. An optional minor in management is available. Students are required to take a field test as part of the strategy and problems course. The program can be completed in less than 18 months for distance learners with the transfer of up to 78 credits.
For those who major in business management, you can choose to specialize in different topics such as:
Technology management
Human resources management
Healthcare management
And general management
Any of these majors are intended for students who want a broad background in business. As part of a Christ-centered management education, the Department of Management integrates the theory and practice of management with the principles of the Christian faith. In whatever profession you choose, they are committed to graduating students who can make a significant contribution to society.
---
King University
Location: Bristol, Tennessee
The King University Bachelor of Business Administration – Business Management focuses on imparting these crucial skills to thrive in any organization:
Business analysis
Ability to decide in various situations
Improve in business communication
Learn business ethics
Lead staff effectively
Conduct market and business research
Students also explore the fundamental management and Business Administration topics, including:
Business law
Accounting
Economics
Human resource management
Marketing
Your training can be applied immediately to your current role when you enroll in a distance learning program.
---
Saint Leo University
Location: St. Leo, Florida
Saint Leo's online BA in Business Administration degree enables you to reach the top of your field. You can become an entrepreneur or earn a high-paying job occupation in various industries when you have a diploma in this bachelor's degree. With their BA in Business Administration program, you can transform your entrepreneurial vision into a viable business plan.
The Business Administration specialization is appropriate for students from all disciplines, public or private, profit or nonprofit, who intend to own or manage organizations. Students learn how to manage in a global environment and how ethical decisions are influenced by the environment.
Whether you're looking for a well-rounded education or a flexible, individualized educational experience, Saint Leo University offers both. In order to meet the students where they are, these online programs are made convenient and flexible.
---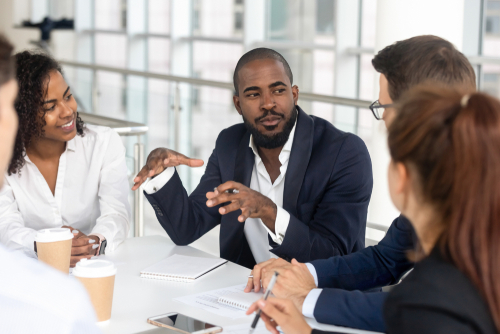 Skills Expected of Business Management Graduates
Management and Leadership Skills
Even if you aren't a manager, business management skills will assist you in advancing your career in the future. Both management and leadership skills go hand in hand together. They can be applied no matter what your job position is or whether you're on top or at the entry-level of the organizational structure.
A management concept involves planning for, organizing, controlling, and preparing for organizational change. The skills you practice in your own work environment can definitely benefit you in the future, even if they can't be applied on an organizational level.
IT Skills
As a business expert, you need to have basic IT skills. Information technology is an important skill for today's modern business professionals. It is essential that you have a solid understanding of information technology since it is one of the most important priorities for many organizations. Modern employers would need someone who knows how to use some software and who has some basic knowledge about the IT infrastructure. Having a solid understanding of the field will help you diversify your skill set and set you apart from the competition.
Innovative/Forward Thinking
We live in an era when innovation and creativity are the defining characteristics of the business environment. Businesses face a competitive market that requires them to stay on top of their game and capture the attention of customers. Businesses prefer professionals who think outside the box to implement small changes or promote company-wide innovation.
Communication Skills
Communication skills have been mentioned quite a lot when it comes to Business Administration programs. Such skills require both oral and written communication skills. The ability to communicate ideas and intentions in a variety of formats is a critical skill. You will be working with a lot of clients, business partners, and suppliers, so it's essential to be effective in communicating with them.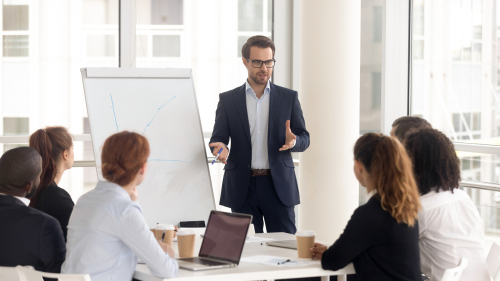 Jobs for Business Management with Business Administration Concentration Graduates
The Bureau of Labor Statistics presents some high-paying jobs in business fields. And it's up to you to fit in and be prepared to get the job. Here are some possible jobs that you can find after completing an online Business Management with a Business Administration Concentration degree.
Business Consultant
In addition to providing business consulting services, management consultants also assist businesses in increasing their efficiency. A CEO or business owner can benefit from their advice by reducing costs and increasing revenue in their organization.
In management consulting, information about a problem is gathered, improvements are designed, new systems and organizational changes are recommended, and managers are consulted to ensure the changes are effective.
Human Resources Specialist
A human resources specialist recruits, screens, interviews, and places newly hired employees. Employee relations, compensation and benefits, and training may also be handled by them. Many industries are in need of filling this good-paying job position.
Office Administrator
Business Administration graduates with an interest in office management will never be short of jobs. Office administration will be your centric focus in this job role. A few light accounting and reporting skills are occasionally required. However, most of your responsibilities would be to take care of all the office tasks, such as handling calls, scheduling, managing, and monitoring tasks.
Sales Manager
A sales manager is a key position for any company or organization. An organization's sales manager oversees its sales team and ultimately produces revenue. Managers guide, lead, train, and set sales goals for salespeople. There are also instances where KPIs are set and quota goals should be assessed per sales agent. Besides projecting sales and assessing profitability, sales managers also evaluate products and services.
Financial Analyst
Studying stocks and bonds is one of the responsibilities of financial analysts. Many industries and businesses need to hire financial analysts if they want to maximize their financial resources and cash flow. They help individuals and organizations maximize profits by analyzing investment performance.
Business Development Manager
Business development managers provide information about company products and services, as well as serve as points of contact for new customers and assigned clients. Making forecasts of sales and revenue in accordance with anticipated income is one aspect of their job, along with developing contacts and researching new markets to attract new clients.
Advertising Executive
If you want to practice creativity and arts, you might want to land a job in the advertising field. One great position or role is an advertising executive. The ability to handle promotional accounts is not dependent on specialized training in marketing or advertising. With an online bachelor's degree in business administration, you can qualify for this job position.
Market Research Analyst
In order to help companies increase sales, market research analysts provide companies with market data and other useful insights about their markets or industries. To find out what their target audience wants, they look at their demographic or target audience members. A product or service can also be identified at an ideal price point and identified as having potential customers.
---
Check this out: Best Online Bachelor's in Business Management with a Concentration in Business Intelligence
---

Frequently Asked Questions
What are some reasons to enroll in an online Bachelor's in Business Management?
The flexibility of an online program is particularly beneficial to working individuals and those who are committed in different ways. Look for an online Business Administration program that offers electives or concentrations you are interested in, in order to customize your business management degree.
Another good reason to go for an online format is that these programs offer strong financial aid packages similar to on-campus programs. Lastly, they also offer internships, which are a great way to gain hands-on experience while studying online for your MBA.
Are you expected to learn math subjects when studying for an online Bachelor's in Business Management?
An online Business Administration degree will expose you to learning some mathematics courses. While it may be impossible to learn all kinds of maths, you'll definitely go through courses related to basic calculus, arithmetic, and algebra. After all, math is necessary to make payroll, hiring, and layoff decisions. You will analyze things like budgeting, expenses, and profits.
Does a Business Administration Bachelor's program take a lot of time to complete?
Part-time or full-time students will finish their degrees at a different pace. A bachelor's degree in Business Management is typically completed in four years for students who earn 15 credits a semester. However, there are some online programs that are accelerated, so you can finish them as a full-time student for only one and a half years. Full-time employment is best if you can handle a heavy workload. However, having a job and many personal obligations makes part-time study more manageable.
Key Points to Ponder
Business Administration jobs can provide a solid ROI for graduates with a median wage of $76,850 annually.
Take into account factors such as cost, salaries in your field and area, and your career interests when weighing degree options for online Business Administration degrees.
Communication, resourcefulness, and motivation are all skills you will learn from a quality Business Administration program. Along with improving your critical thinking skills, you will also develop your creativity and problem-solving abilities.
---
Additional Information: Best Online Bachelor's in Business Management with a Concentration in Contract Management