Find Your Perfect School
Premium Schools is an advertising-supported site. Featured or trusted partner programs and all school search, finder, or match results are for schools that compensate us. This compensation does not influence our school rankings, resource guides, or other editorially-independent information published on this site.
While raw data acquisition may be an easy process, the crucial task of analyzing data paints a completely different story.
Data Analysis is needed to make sound business decisions. With an online bachelor's degree, students can sharpen their Data Analytics and Management skills. After graduation, you can become a professional data analyst managing, assessing, and interpreting vast amounts of online information to serve the purpose.
---
Check out this informative resource: Best Schools with Online Bachelor's in Forensic Accounting Degrees
Quick Summarization
With an online Bachelor's in Data Analytics program, students learn to use professional tools, strategies, and methodologies. This in-demand program offers coursework in subject areas such as IT data systems, data science, data programming languages, cyber security, predictive modeling, and data mining. By earning this online degree, students can equip themselves with the knowledge and skills sought in many modern businesses.
Quick audio summary:
Methodology
We put together today's best undergraduate online programs in Data Analytics. To create this list, we evaluated each online school and program, ensuring that it meets these criteria:
Offered online or as a hybrid Data Analytics program,
Focuses on the fundamentals of cloud computing, data science, machine learning, Java Script, and software development,
Features core Data Analytics courses structured to produce the best professionals who are experts in programming values, theories, and practices, while also becoming efficient problem-solvers and strategic thinkers,
Hosted on a user-friendly, convenient, and user-friendly online learning system,
May offer internships and study-abroad opportunities to elevate students' learning experiences and learn state-of-the-art Data Analytics technologies,
Taught by Data Analytics and computer experts with a wealth of knowledge and experience,
Offers tuition discounts, scholarships, and other kinds of financial aid options,
Accredited by organizations that ensure academic excellence and quality instruction, particularly as it pertains to online bachelor's programs.
Our Methodology page further explains how we select the best schools and programs.
---
10 Best Schools with Online Bachelor's in Data Analytics
Ball State University
Ball State University promotes its online Bachelor's in Data Analytics for computer enthusiasts. This online bachelor's degree is geared toward working adults. Your courses are asynchronous, which means you can complete them when it's convenient for you without sacrificing your personal and professional time. The right balance between work, classes, and personal responsibilities is possible by taking one or two courses at a time.
Practicums, internships, and immersive learning projects are all important aspects of the Ball State student experience. No matter where you are, Ball State University is committed to giving you a great student experience. Graduates can apply their skills in Big Data Analytics to real-world projects with clients.
A data analytics degree can lead to employment in various fields, like private businesses, nonprofit organizations, government agencies, finance, economics, education, healthcare, and manufacturing.
Check out the following possible job occupations that you can pursue after graduation:
Data architect
Systems analyst
Data analyst
Research analyst
Remote sensing engineer
Systems engineer
---
Purdue University Global
Purdue Global's online Bachelor's in Data Analytics can be taken fully online. This Bs degree online will help you learn and sharpen the skills you need in this demanding industry. In this degree, you can select optional concentrations based on industry requirements. Over the next decade, computer and information professionals will be in greater demand than other occupations, according to job forecasts.
During this online degree, these are the courses that will be covered:
Big data
Data Science
Data governance
MapReduce
Online analytical processing
SAP Analytics
Predictive analytics
Enterprise data management
Machine learning
Those studying data analytics learn to analyze complex data sets and create reports based on analysis principles and other relevant disciplines. Eventually, they can use ethical and legal principles to analyze data. They'll be able to build, implement, and evaluate analytics-based solutions that meet specific requirements. They can also effectively lead or participate in teams engaged in data analysis activities.
---
Thomas Edison State University
The Bachelor of Science in Data Science & Analytics at Thomas Edison State University meets the unique needs of working adults in their bustling lifestyles. The program may be completed entirely online by combining online courses, exams, and other credit-earning options from Thomas Edison State University with online data science and analytics classes.
The areas of study requirements of the program will be satisfied by credits earned by completing Statistics.com courses. A Data Scientist is an interdisciplinary professional with computer, statistics, and mathematical modeling expertise. These concepts are useful in businesses, governments, medical research, and social work. Analyzing data effectively and using it to support insights and decision-making is the focus of Data Analytics, a subset of data science. Graduates can apply statistics and quantitative modeling techniques to solve real-world problems.
Key technology courses like the following are covered in this online Bachelor's in Data Analytics degree:
Machine learning
Data mining
Visualization techniques
Statistics
Predictive modeling
---
Southern New Hampshire University
Southern New Hampshire University's Bachelor of Science in Data Analytics degree online program produces experts who become crucial to organizational success. Organizations must utilize data to predict future opportunities and manage risks to make the right decisions—and this task requires an expert in the field. With an online BS in Data Analytics, you become an asset to the organization that you work for.
SNHU's bachelor's degree in data analytics was designed to address the daily challenges of organizations. Here are sample courses:
Data analytics standards and policies
Tools (Python, R, SAS, SQL, and Tableau)
Analytical requirements
Data analytics methods
Digital portfolio creation
Besides learning how to navigate data, validate it, and use techniques, you'll also gain the soft skills needed to be a vital decision-maker. Lastly, students at SNHU receive extensive support, such as online tutoring, to ensure they understand the hard and soft skills required to succeed as data analysts.
---
Ohio Christian University
Ohio Christian University offers an online Bachelor of Science in Data Analytics program. It allows every student to pursue a career in Information Technology through data analytics. Through this major, students learn how to use analytics to resolve cross-organizational problems using data obtained from multiple sources.
All the courses can be taken fully online, in a flexible 5-week format perfect for busy working adults. All the projects and assignments come with weekly deadlines, giving you more freedom to do everything at your own pace.
After graduation, you'll be equipped to work in any data analytics position. You can identify different types of analyses based on different data sets. Combined with leadership skills, you can use management principles to manage people and processes. You'll also be able to present analysis to IT stakeholders and those outside the IT realm.
The courses you'll learn in this online bachelor's degree in data analytics are:
Programming I
Security Fundamentals
Business Information Systems
Operating Systems I
Database Systems I
---
Eastern Oregon University
EOU's online Bachelor's in Data Analytics aims to develop math and computer science skills. You will graduate prepared to positively impact industries by combining in-demand technical competencies with essential soft skills.
Online students benefit from the expertise of instructors who share academic and industry insights. Providing real-world application opportunities and guidance will help you succeed in your coursework.
You do not need to attend classes on campus to earn your degree from EOU online. Online learners will benefit from the same content and professors as in-person students. All the faculty members are university professors with extensive online teaching experience.
This bachelor's degree in data analytics is designed to have flexible schedules, affordable tuition, and engaging course content. It also comes with an asynchronous learning format, so it's built for optimal convenience. Project-based learning, real-life application of critical thinking and communication skills, and methods and tools are all part of the curriculum.
---
Colorado Technical University
Discover how data analytics can help you succeed in business with Colorado Technical University's Bachelor of Science in Business Administration – Data Analytics concentration program. Using data analysis to make business decisions is the focus of this program.
Students learn about communicating data findings. Data classification and analysis are central to this program, which focuses on helping organizations make decisions about opportunities and risks.
This Bachelor of Science in Data Analytics program online comes with a 180-credit hour requirement for completion. There's also an option to attend their campus if you want to go for a hybrid learning format. It includes 66 credits in general education, 86 credits in business administration, and 28 credits in data analytics.
A data analytics program is designed to help students understand how to integrate managerial skills into business strategy and make data organization more effective. Data collection is examined in the course content to help students understand how to collect and analyze data for business decision-making. Data classification and data analysis are applied to organizational decisions to help predict future opportunities and risks in the program.
---
Washington State University
The Bachelor of Science in Data Analytics at Washington State University is available 100% online. This online program gives students the skills required to succeed in the high-demand field of big data. It discusses the tools and techniques for collecting, managing, exploring, and analyzing large, complex datasets. As well as improving your communication skills, you'll learn how to contribute to the success of companies in a wide range of industries. The interdisciplinary curriculum includes communication, mathematics, statistics, computer science, and data analytics courses.
Graduates from this program can bring value to various industries, as the skills they learn are highly transferable. Among a handful of US universities, WSU offers an online undergraduate degree specifically designed for students interested in analytics.
What sets it apart from other colleges is the extensive "hands-on" experience it offers, which prepares students for well-paying jobs using real industry datasets. The Voiland College of Engineering and Architecture, along with the College of Arts and Sciences offers renowned and experienced faculty members.
Many industries use data analytics tools to analyze large datasets, extract information, develop predictive models, and improve decision-making. With some applications, starting salaries for data analysts can reach six figures in recent years. You can land a job in this sector, but you must have the core data skills necessary to participate in employment industries such as healthcare, retail, management, manufacturing, digital commerce, and many more.
---
Herzing University
The Bachelor of Science in IT with a concentration in Data Analytics is an undergraduate program that prepares you to work as a data analyst at the entry-level. And Herzing University is more than ready to guide you in this journey.
As part of the online degree program, students learn fundamental concepts and skills in statistics, data management, programming, and data presentation. By emphasizing IT fundamentals and developing crucial data analytics competencies, their program will prepare you for various job opportunities. Data analytics courses are required in the bachelor's degree program, and six electives can be chosen from IT, information systems, computer science, or related subjects.
An internship or capstone project is required for each class. There are many career opportunities across all major industries when you obtain a solid foundation in business analytics, basic programming, statistics, and database management.
Data analytics graduates may hold the following job titles:
Data manager
Data mining specialist
Computer and Information Systems Manager
Business data analyst
Computer Network Architect
Database Administrator
---
Bellevue University
The University of Bellevue offers a top data science degree in the form of this Bachelor of Science in Business Analytics. By mining data and presenting findings, leaders will learn how to use Big Data to reach their organization's goals. No on-campus residency is required for these courses as they are offered in a flexible online format.
The following courses are covered in this online degree:
Data Visualization
Base SAS Programming
Data Warehousing and Mining Applications
The courses prepare students to take industry certification exams, which can enhance their resumes. A graduate can pursue an MBA or other advanced degree or enter the workforce as a business analyst.
Data mining and making sense of datasets are just a few aspects of being a business analyst. An organization's overall goals can be improved by applying data findings as a business analyst.
Earning your Business Analytics degree will prepare you for real-world business scenarios through 100% online, hands-on learning. You will learn how to program, run SAS software, use information systems, apply statistics, manage data, mine data, and analyze business information through your Business Analytics degree.
---
Take a look: Best Schools with Online Bachelor's in Management Information Systems
---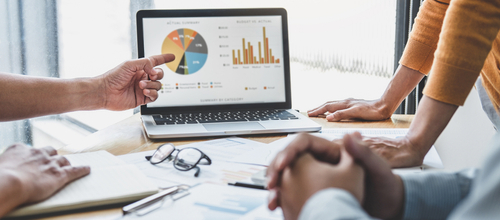 Possible Career Pathways for Online Bachelor's Degree in Data Analytics Graduates
Data Analyst
The job of a data analyst goes far beyond crunching numbers. Analyses help businesses learn key insights about their customers, solve problems, and boost profits by analyzing data. The analyst's responsible for sharing these crucial data with key stakeholders, including company leaders, to make informed decisions.
Management Analyst
Management analysts often interview staff and make recommendations based on their observations. Moreover, they share information and data with the rest of the team and will follow up on the effectiveness of the changes they have decided on.
Data Scientist
A data scientist's responsibilities are similar to those of a data analyst in that they work with big data and translate it into useful information using analytics, statistics, and data programming skills. Professionals like these go beyond data analysis and develop solutions to business problems.
Data Architect
Creating secure databases based on client needs and coding requirements is the responsibility of data architects in the industry. After the initial database design, a data architect collects and organizes data and makes conclusions based on the gathered data.
Skills Necessary for Data Analysts
Problem-Solving
The ability to solve problems when working with large data sets is crucial to data analysis. Problem-solving skills are a must for anyone working in the field of data science and analysis. Corrupted files or unruly data present challenges for analysts, who must find creative solutions.
Data Visualization
Using graphics or other illustrations to present data findings is known as data visualization. Anyone can better understand data-driven insights, regardless of their training in data analysis. Data analysts can use data visualization to help companies' decision-makers quickly identify patterns. Data analysts can use this capability to understand a company's situation better and influence company decisions.
Python
Analysts should, however, learn Python first. The Python programming language incorporates dynamic semantics into its object-oriented syntax. Web and app development are its primary uses. The built-in data structures in Python and the dynamic typing and binding options make it ideal for rapid application development.
Statistical Programming
Understanding statistics and probability is essential for any data analyst who wishes to succeed. Learning R or Python programming languages can improve data organization and analysis.
Machine Learning
Data cleaning and learning a programming language are skills, but understanding machine learning is crucial to becoming competitive in the data analytics industry. Artificial intelligence and predictive analytics are major investment areas at present, according to research. Understanding machine learning tools and concepts may benefit you during your job search, even if you do not work on machine learning projects.
Critical Thinking
The importance of understanding and expanding the implications of data is not simply based on looking at it. Analytical thinking allows you to identify patterns and extract actionable insights and information from data. By applying yourself to thinking rather than just processing, you will succeed.
Attention to Detail
Professionals in this industry work with a great deal of data but must also be keen on observing and studying details. After all, providing meaningful insights into data cannot be easy when patterns or trends aren't recognized.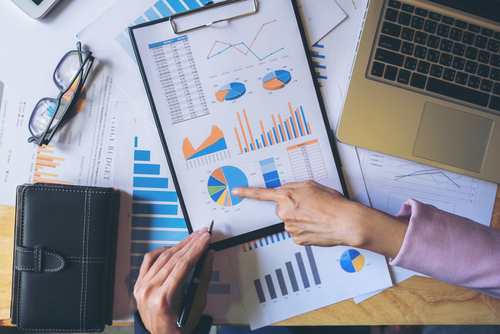 Courses in an Online Bachelor's in Data Analytics
Cloud Computing
Analyze users' cloud requirements using current technical tools and methodologies. The cloud computing course will also cover AWS core services, cloud computing, and defending organizations against cyberattacks.
Network Administration
Develop technical skills and knowledge in building, maintaining, and troubleshooting network infrastructures in the network administration course. Cyberattacks will also be covered as part of the course.
Data Analysis with R
This course presents an introduction to exploratory data analysis (EDA) utilizing R. Using EDA, students summarize and visualize a data set's most important characteristics. By exploring data, they understand the structure and variables of data, consider how they were created, and determine how formal statistical methods can be applied to investigate the data.
Software Development with Python
Learn Python programming concepts and apply them to data structures, algorithms, web services, and any features for software development. Despite its versatility, Python is known for its easy-to-understand asset, making it a widely used language.
Supply Chain Management and Logistics
You will learn about sourcing, conversion, and logistics management through the supply chain management and logistics concentration. Additionally, you will learn methodologies for analyzing global supply chains both qualitatively and quantitatively.
Information Security
Information security is a crucial aspect in all of the data and computer science. The course covers major topics in computer forensics, network administration, and intrusion detection. Additionally, you'll learn how to prevent cyberattacks on critical information systems with the help of methods, policies, and procedures.
Data Systems Administration
Students take Data System Administration to develop the necessary skills to become Database Administrators. This course illustrates how DBAs ensure businesses can maximize profitability by leveraging data. The course covers database management tools, account administration procedures, recovery procedures, and migration and upgrade maintenance.
Data Wrangling
Data science and analysis skills are developed in this course, which builds upon concepts covered in Introduction to Data Science. This course explores how data scientists combine data from various sources and manipulate it to create data-driven applications. This course examines gathering and extracting data from commonly-used formats, assessing data quality, and effectively cleaning data.
Data Science vs. Data Analytics vs. Business Intelligence
Before choosing your analytics field of study, getting confused about their differences is normal. With data studies alone, you can choose between studying data science or data analytics, and business intelligence also comes into the picture. It's best to understand these three branches earlier and separately.
The field of analytics includes three primary types of degree programs: Business Intelligence, Data Analytics, and Data Science. The three different types of programs overlap substantially, despite the usefulness of categorizing them. Degree programs in analytics do not have a standardized naming convention or curriculum standard. Examining each program's curriculum, including its required and elective courses, is the best way to determine the program's focus.
The Data Analytics degree program offers statistics, IT systems, and applied mathematics courses, making it the most comprehensive and diverse of the three analytics degree programs. On the other hand, Data Science programs usually require advanced engineering, computer science, and programming coursework. Finally, as for the Business Intelligence specialization, these programs usually contain coursework in data organization, database management, and data warehousing.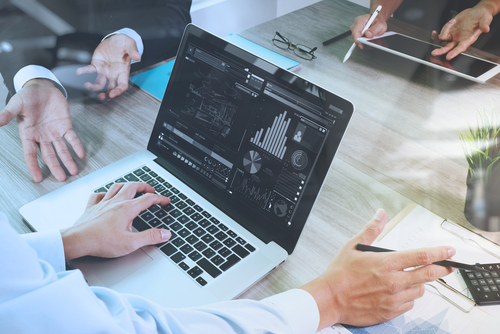 Frequently Asked Questions
How can hopeful professionals start a career in Data Analytics?
Data analytics careers typically begin with an education degree. It is also possible to transfer into this field if you have already earned a bachelor's degree in a different subject. All you need is to maximize your transfer credits and complete the requirements to graduate with a bachelor's degree in Data Analytics.
Aside from formal education, data analytics coding boot camps are also popular. In these boot camps, you will learn about data analytics from the ground up and in less time than it would take to complete a degree.
Why should students choose an online Bachelor's in Data Analytics?
Employment goals vary from person to person. Many students prefer a structured learning environment, such as an on-campus classroom, to prepare for the work environment they will enter after graduation. But there are also those who want to complete their schoolwork online to finish their education and enter the workplace immediately.
A similar education will be provided to the student. The learning environment is simply different for them. Online analytics degrees allow students to apply for entry-level jobs in their field of interest. Most courses and program offerings have the same format as their conventional counterparts, so rest assured, you'll get the same quality of education.
How valuable are online bachelor's degree certifications to Data Analytics students, graduates, and professionals?
You can gain a boost while working on an online Data Analytics bachelor's program by earning your certification in business analytics. Furthermore, it motivates you to keep moving forward, showing your employer you are steadily advancing. Students who earn their certifications may qualify for a work-study program through which their employer matches their educational costs while giving them credit for their work.
Key Points to Ponder
To drive business growth, increase competitive advantage, and make informed decisions, businesses need skilled graduates of online Data Analytics programs who draw meaningful insights from oceans of data.
Business Data Analytics and Data Science graduates can create programs, products, and plans that benefit the business by analyzing existing data, predicting data patterns, and utilizing information.
---
Here's an additional resource to check out: Best Schools with Online Bachelor's in Digital Marketing