Find Your Perfect School
Premium Schools is an advertising-supported site. Featured or trusted partner programs and all school search, finder, or match results are for schools that compensate us. This compensation does not influence our school rankings, resource guides, or other editorially-independent information published on this site.
A general Computer Science program promises excellent career opportunities in the computer and IT industry. However, going for niche practices such as Data Management is always a great idea if you intend to pursue specializations.
While this branch in information technology will train you to become a jack-of-all-trades for computer jobs, you'll be able to qualify and pursue more specialized opportunities in Data Management, data warehousing, planning, and security. Database administrators, data scientists, and others who manage information can pursue careers after graduation.
Global data generation in 2021 is estimated to reach 79 zettabytes. And by 2025, it is estimated that this amount will double. Data storage in cyberspace and digitally will only increase the demand for database managers. Such data is a primary reason that database managers are in high demand among many employers worldwide.
In fact, database administrators and architects are perceived to have a 9% increase in job growth for the next decade, as recent data indicate.
---
Check this out: Best Schools with Online Bachelor's in Data Analytics
---
Quick Summarization
Information technology (IT), information security, data organization, and metaData Management are all topics covered in online bachelor's in database management programs. Data analysis and relational databases are taught to students as well as software management systems.
Database Management degrees may be called differently by people, but they're essentially similar to Database Administration and Network Administration. Database administrators, computer and information systems managers, and data scientists can all pursue careers with an online bachelor's in Data Management degree.
Quick audio summary:
Methodology
Now's the best time to prepare yourself to enter the thriving data-driven market by enrolling in an online Bachelor's in Data Management! Here are the country's top-rated information technology schools where you can study at your convenience.
In coming up with this ranking list, the following factors were considered for each undergraduate program:
Delivered online or partially online to offer to accommodate students who keep bus0y work and other schedules,
Emphasizes the teaching of core courses in Data Management, with options to specialize in other related concentrations,
Equips students with project management and other valuable skills they need to excel in Data Management jobs when they join the workforce after graduation by focusing on detail-oriented and strategic critical thinking,
Offers convenient access to Data Management coursework through virtual platforms that are user-friendly, convenient, and cutting-edge,
Helps reduce undergraduate tuition and other fees by offering financial assistance and credit transfer opportunities,
Associated with IT and Data Management organizations that boost students' and graduates' networking efforts,
Professional database administrators and terminally-trained Data Management instructors with extensive accounting teaching experience are featured in this program,
An accreditation status has been conferred by an academic agency that promotes high teaching standards.
Visit our Methodology page that explains our selection process for schools and programs.
---
10 Best Schools with Online Bachelor's in Data Management
Western Governors University
Earning a Bachelor's in Data Analytics and Data Management degree from Western Governors University puts students at the center of the information revolution. The degree program emphasizes programming, business, and math skills integral to Data Management.
Students can acquire the following tech skills in this online program:
Data Management
Visualization
Data wrangling
Statistical analysis
Leadership and management skills
One of the unique aspects of WGU's degree program is that you earn one degree that covers both Data Management and data analytics skills. As soon as you earn certifications, you can add them to your résumé before you complete your degree, as they are fully integrated into this IT degree program.
---
Strayer University
Strayer University's online Bachelor of Science in Information Technology, Data Management concentration is concerned with the management of multidimensional databases, configuration and optimization of database servers, and operations within cloud-based systems. The program, which also discusses the fundamentals of a Data Analytics program or Data Analytics degree, will prepare you to support critical business operations, whether you work for a nonprofit organization, the government, or a private company.
Get ready to gain insight into cloud-based systems and develop skills through this bachelor of science in IT, with an emphasis on Data Management. You can learn the most effective methods for managing multidimensional databases. You'll also gain knowledge of how to configure and optimize database servers. Finally, you'll be able to learn about Microsoft SQL Server (MSSQL) database operating protocols.
Depending on the course objectives and the subject matter, class sizes vary. Nevertheless, a low student-to-instructor ratio is generally maintained at Strayer University. You will gain the technical skills you need to advance in this field through coursework in this program, covering topics such as cloud computing, design, programming, and development.
Some of the courses are:
Database Administration
Data Warehouse Planning
Cloud Architecture and Design
Information Technology Capstone
---
Liberty University
Liberty University's online Bachelor of Science in Information Systems – Database Management program prepares students for various career opportunities in business and technology. By taking this course, you can gain knowledge about developing and managing databases and corporate information systems. Data networks are essential to managing information and processing digital transactions in almost every organization.
Besides preparing students for an exciting career in criminal justice, business, marketing, and information technology, this IS degree can prepare you for a wide range of exciting and rewarding careers.
Their database specialization is created to meet the market demand for professionals who can manage and implement efficient databases. An organization's information is stored in databases, such as financial statistics, payroll information, and customer records. The purpose of database administrators is to store and organize data for a company using the software. Their mission is to develop secure, easy-to-use, and easy-to-integrate information systems. They can help businesses succeed by designing and managing data systems.
This specific course in information technology can be completed in three and a half years. It presents a fast and flexible path to graduation, so students don't have to put their life on hold to get their degree.
---
DeVry University
DeVry University offers its Database Management Specialization in a hybrid format. This online degree is designed to help you grasp all aspects of database management, including principles, tools, and techniques. Their Bachelor's in Computer Information Systems with a Specialization in Database Management program emphasizes real-world applications.
As well as learning how to create and manage databases effectively – from planning to troubleshooting – students can experience how to apply database management in real-world situations. As part of this online program, you will learn through a hands-on set of experiences called Tech Core, designed to prepare you for the future's Internet of Things (IoT) economy.
The Bachelor's in Computer Information Systems specializing in Database Management provides you with a comprehensive understanding of how databases are developed and maintained. People use databases to store a lot of information, from financial transactions to health records to court documents; data storage systems are designed, created, tested, and managed by database administrators.
Professors at DeVry University will teach you how to balance access and protection when it comes to databases because security is often a primary concern. Defending yourself against cyber attacks requires understanding basic defensive measures. Various databases can also be managed together by understanding how they work from performance, availability, and cost perspectives.
---
Colorado State University
CSU offers an online Bachelor's in Information Technology specializing in Data Management and Analysis. This online course will teach you about managing big data effectively, preparing it for business use, and analyzing it to increase an organization's productivity, profitability, and efficiency. In addition to designing a database based on user requirements, preparing data for analysis, performing web analytics, performing data mining, and performing statistical analyses, you will also develop analytical skills.
Your bachelor's degree can be customized to meet your professional and personal goals while studying through CSU Global. A specialization can be earned alongside a bachelor's degree by taking five lower-division courses. Undergraduate specializations allow you to explore a second area of interest, similar to minors. At Colorado State University, you can be assured that flexibility and specificity are their two main features.
The courses in this program are:
Web Analytics
Data Mining
Database Concepts
Data Science Foundation
Statistics in Business Analytics
---
Bellevue College
Bellevue College offers an online Bachelor of Applied Science in Data Management and Analysis. In addition to being a great resource, the internet facilitates the gathering of huge amounts of data. More data is available to companies in today's digital world than ever. Businesses are excited to use that information to pinpoint trends in behavior. An organization's data is collected, organized, protected, and stored for analysis to make business decisions based on the data.
You can opt to concentrate on one of the following specializations:
Business Intelligence
Data Analytics
A business intelligence specialization is a rearview-driven approach; it explains how past events went down. Alternatively, data analytics focuses on the future; it explains what is happening in the present and what it will mean if trends persist. There is a tremendous amount of data collected by organizations. Businesses are excited to use this information to identify patterns of behavior.
The final capstone project is due by the end of the last quarter for all Bachelor's students. Throughout the program, students develop knowledge and skills to apply to their future employment plans as part of the capstone project. Furthermore, students can graduate with a project they can highlight on their resumes/portfolios for future employers.
---
Capella University
Today, business success relies heavily on the use of big data. The online Bachelor's in IT with a minor in Data Management from Capella University helps you become a Data Management expert. The program develops knowledge in key field areas, from data architecture to governance to database administration. There are 180 credits required for this degree.
Upon completing the bachelor's degree in IT with a minor in Data Management, you'll be prepared to manage data effectively in various workplace settings. The curriculum emphasizes the concepts and activities necessary to manage organizational data assets effectively.
For instance, here are the topics that are included in their coursework
Data governance
Data Management Strategies and Techniques
Data Architecture
Data modeling
Design and integration
Database Administration
Students will learn how to analyze business processes, data architectures, data designs, and database development. By applying Data Management processes to real-world situations, you'll learn how to solve business challenges.
---
Colorado Technical University
The Bachelor of Science in Computer Science – Concentration in Data Management is an online program with 183 credits requirement offered at Colorado Technical University. The program comprises 51 credits in general education, 88 credits in computer science core, and 44 credits in data science concentration.
Students interested in pursuing careers involving computer software development, algorithms, and programming are recommended to enroll in the BS in Computer Science program. In this course, students will discover theoretical and practical knowledge, methods, and techniques—processes and skills related to designing and developing computer software.
An undergraduate degree in computer science offers a thorough understanding of how the software works on computers and how different types and levels of software are designed and developed. It differs from the Computer Engineering curriculum, which focuses on designing and developing computer hardware.
And the way it differs from information technology studies is that the curriculum of the Information Technology program is focused on designing, developing, and supporting high-level end-user-focused business systems, services, and applications. It's important to note that no additional licenses or certifications are associated with this program.
---
University of Maine at Augusta
The Data Science degree at the University of Maine at Augusta emphasizes Data Management. As a standalone bachelor's degree, this program combines a critical core of courses in computing with core mathematics courses and a built-in outside concentration. Get ready to learn hands-on information systems, databases, statistical analysis, data transformation, data storage, and information theory in this course.
With UMA's Data Science major, students can enhance their data science skills with training in a specific field. Several concentrations are currently available in the program, including social science and business analytics, with more concentrations expected in the future, as well as the option for students to specify a specialization outside of the program if they choose to. By requiring internships as part of a bachelor's degree, students gain a practical perspective of real-world work directly related to their field of study.
---
National University
At National University, you will be encouraged to enroll in their Bachelor of Science in Information Systems with a minor in database management. This allows you to combine Data Management with business, which serves students well in the workplace. The curriculum combines data communication, database management, and enterprise strategies to make you an expert. National University also offers a Transition Program, launching you directly into its Master's in Management Information Systems program.
Some of the core classes in this major are:
Database Management Systems
IT Infrastructure
Management Information Systems
Information Systems Strategy, Management, and Acquisition
---
Take a look at this additional info: Best Schools with Online Bachelor's in Risk Management Degrees
---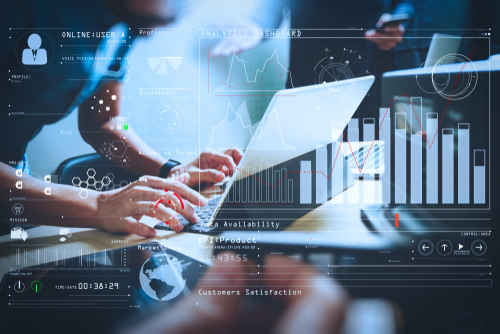 Popular Courses Offered by an Online Bachelor's in Data Management
Data Management Applications
The course introduces students to MySQL, teaches them to create SELECT queries using joins and subqueries, and how to delete and update data in SQL. Additionally, foreign and primary keys are covered, and databases, views, and tables are created and modified. Students learn how to construct simple and complex queries in class.
Data Analytics
This course introduces students to the most commonly used tools, techniques, and procedures in data analytics. Data analytics encompasses a wide variety of disciplines and how they interact.
Introduction to Data Science
Data analysis is introduced in this class. This is a foundational course intended for future data managers. It teaches students how to manipulate data, write data analysis code, and analyze data statistically. As part of their training, they also learn to communicate their findings effectively.
Data Governance and Stewardship
This course teaches students how to handle sensitive and private data ethically, legally, and within cyber policies. The students also learn how to keep information secure by shaping data processes.
Data Management
In Data Management, data is collected, controlled, and delivered across various systems, such as databases. Managing data can include maintaining marketing technology systems, developing business intelligence, or visualizing data. All these activities are included in the course training.
User Experience and Interactive Design
In the user experience and interactive design course, professors will teach you how to design for functionality and usability. Learn about user interface guidelines, usability principles, and fundamental interaction patterns. Discover how to create a user-friendly product and define what good interaction is.
Skills Necessary for an Online Bachelor's in Data Management Graduates
Data Analysis Skills
Analyzing large data sets to gain insights will be one of your main responsibilities. Knowing which data is important and which you should ignore is also important. Hence, data analysis skills can't be overstated.
Business Intelligence Skills
In addition to managing and analyzing data, Data Management skills require understanding what the data means to the organization. Data requires understanding why it is being collected and how it relates to the organization's needs. Taking this approach allows you to collect the right data strategically.
Critical Thinking Skills
Critical thinking is required to make sense of large amounts of data. This soft skill is crucial in many occupations. To measure success, you will need to take into account organizational goals.
Database Management Skills
Navigating database software effectively is included in database management skills. You must know how to locate records and utilize other software features to do that. Using forms and reports within a database is also important. Managing databases also involves writing reports and queries using tools, copying data into Excel or other formats, and analyzing the results.
Communication Skills
Data Management requires communication skills. Establish clear communication channels with colleagues to ensure accurate and up-to-date data. Additionally, you should be able to speak effectively with external partners to use data efficiently.
Data Visualization Skills
Others must easily understand your data once you've collected it. A graph, chart, or other visual element is a good way to communicate patterns and trends. Hence, it would help to have data visualization skills as a data manager or administrator.
File Management
Your computer or network needs to be organized and know how to upload, download, copy, and move files. Passwords, usernames, and accounts must also be tracked effectively, and you must help others do the same. File management skills are another crucial soft skill for data managers.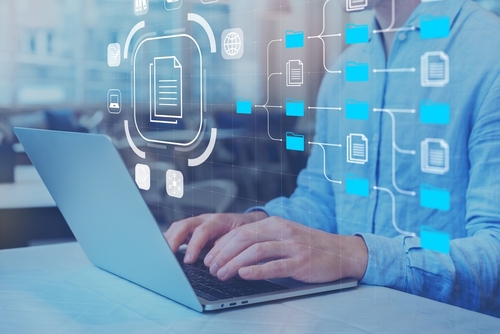 Career Pathways for Online Bachelor's in Data Management Graduates
Information Security Analyst
Information security analysts keep An organization's information secure whether they work on databases or networks. They keep up-to-date on current security trends, conduct regular investigations for security breaches, and hire ethical hackers to find weak points.
Database Administrator
To meet the needs of their organizations, database administrators develop and manage databases. Their tasks include organizing and maintaining datasets, troubleshooting problems, and implementing new technologies. A database administrator should also know programming languages like SQL, HTML, and Python. They must also possess strong communication and problem-solving skills and an understanding of basic data analysis.
Computer Programmer
Computer programmers write code that makes software applications and programs run efficiently and effectively. Java, HTML, and C++ are among the computer programming languages they need to know. Working with software developers and testing programs for errors are also part of the job description.
Computer System Administrators
Data storage and communication systems are overseen by these professionals daily. Optimizing existing systems, training new users, and troubleshooting issues as they arise are some of the things they look for. In this role, administrators are responsible for storing and integrating data.
IT Architect
An organization's technology is coordinated by its IT architects. Cloud computing, IT security, and systems architecture are among their specialties. They must communicate effectively, organize, analyze, and solve problems. They collaborate with many IT specialists to structure a sturdy IT system for any business or organization.
Data Scientist
In data science, data is analyzed, and knowledge is gained from that analysis. Data scientists use programming languages and other software tools to find patterns, visualize data, and generate algorithms. Python, Hadoop, Java, and machine learning concepts are useful technical skills.
Technical Support Specialist
Technical support specialists are responsible for providing technical support, including hardware and software issues. Among their many responsibilities are troubleshooting technical issues, such as connection problems and unresponsive applications.
Data Manager
Organizations maintain their data according to established policies and procedures data managers manage. A set of policies governs a lot of data work. As a result, data breaches can be prevented, and data managers can reduce the high costs associated with data leaks.
Data Governance Lead
Data governance leads create and communicate policies and procedures for data governance across multiple domains. Domains are logical groups of data. Data silos may isolate key data from other applications in different data domains based on their architecture. Some types of operational data are used in end-user systems, such as customer, product, and financial data.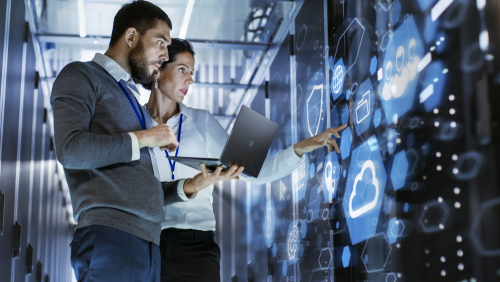 Frequently Asked Questions
Do employers seek Database Management graduates?
Database management graduates are expected to continue to be in high demand for many years to come, just like other tech and information technology positions. About 11,500 new positions for database administrators and architects will be projected to open every year. From 2021 to 2031, database administrators and architects are expected to grow by 9 percent in employment opportunities. Positions for these professionals will likely grow in the coming years as more companies turn to server-based and cloud-based databases.
What is required when studying for an online bachelor's in Data Management degree?
Applicants for an online degree in database management must have an associate's degree and a bachelor's degree. Taking electives in computer science or a related field in high school is also recommended. For students planning to pursue a master's degree in database management, undergraduate degrees in computer science, mathematics, or engineering are required, and a GPA of 2.5 or higher in the degree field is typically required.
A master's degree is recommended and sometimes required if you have experience in computer technology, cybersecurity, database management, or computer analysis. Computer courses are often required for bachelor's or master's degrees. Degree programs in database management emphasize hands-on experience and provide students with real-life problem-solving opportunities.
What are the stark benefits of an online Bachelor's in Data Management?
Simplilearn reports that some of the fastest-growing tech jobs pay $80,000 or more annually without a college degree. The growth in the IT industry is projected to continue to increase as the demand for technology talent keeps pace with the growing digital markets. Career advancement, leadership roles, and higher salaries are all possible for computer science and database management degree holders.
Many corporate environments welcome master's degree holders in technical fields. Data analytics, cybersecurity, data mining, and data acquisition are all important courses in a database management program. Some institutions accept certifications in professional specialties such as Oracle SQL Expert as course requirements.
Key Points to Ponder
Online Bachelor's in Data Management students typically enjoy working on specific technical projects and finding meaning in troubleshooting and solving complex problems. Often working closely with a data analyst, they work with a team to meet organizational goals and teach their colleagues to utilize databases effectively.
Healthcare, nonprofits, government, and technology all need data analysts and database system managers, designers, and administrators who completed a Database Management degree program online in a prestigious school.
An online bachelor's in Data Management is a highly technical degree that often requires specific software system skills. Students are expected to complete project work, participate in hands-on instruction, and sometimes complete internships.
---
Check this out before you go: Best Schools with Online Bachelor's in Management Information Systems