Find Your Perfect School
Premium Schools is an advertising-supported site. Featured or trusted partner programs and all school search, finder, or match results are for schools that compensate us. This compensation does not influence our school rankings, resource guides, or other editorially-independent information published on this site.
The fashion industry receives much attention for being the most creative sector. However, only a few know that the fashion industry is a complex and large ecosystem with a big population doing a wide range of vital duties. Design is only a tiny portion of the entire industry.
Additional Information: Best Online Bachelor's in Art and Design with a Concentration in Creative/Design
---
There is a place for everyone in the fashion industry, regardless of whether you have the imagination and foresight to start your own clothing line or the business and marketing know-how to sell the newest trends.
Quick Summarization
Fashion is an international, multibillion-dollar sector that employs millions of people. It is the business of creating, purchasing, and selling clothing. Numerous undergraduate fashion degrees thoroughly introduce various facets of the industry. Several more specialized fashion degrees are also available for those who have already decided on their dream fashion vocation.
Fashion degrees are not only meant for people who want to create the next big style trend. In addition to fashion design degree programs, students could pursue studies in fashion journalism, merchandising, marketing, management, and various other subjects.
Quick audio summary:
Methodology
An online fashion degree should give you all the necessary tools to succeed in a highly competitive field. Because of the up and rising demand for online bachelor's degree programs in fashion, students can get confused in choosing which schools should go on their list. We've decided to do the research to help make your search for the best online fashion schools faster and easier.
This list of the best online bachelor's in fashion degree programs was created with the following this criteria:
Courses of the program are offered entirely or partially online.
The school and its fashion program have received appropriate national or regional and programmatic accreditations; this ensures the degree's quality and the institution's relevance.
Offer various financial aid opportunities to students enrolled.
The program offers diverse courses focused on topics beyond the specialization.
Online students learn from the same on-campus faculty with years of experience working in the field, most of whom have already established a name in their specific industries.
Each program's curriculum allows students to learn the design and business fundamentals of the fashion industry.
Offer hands-on learning opportunities that allow students to experience what it's like working in the fashion industry before graduation.
We've also listed online fashion degree programs in degrees beyond art and design, such as the Bachelor of Science and Bachelor of Business Administration.
To find out more about our process of selecting the best schools and programs, please visit our Methodology page.
12 Best Online Bachelor's in Art and Design with a Concentration in Fashion
Academy of Art University
Location: San Francisco, California
The Academy of Art University offers an extensive online Bachelor of Fine Arts in Fashion Design suitable for students who want to focus on producing and creating their original designs. This online degree program helps students develop practical skills and awareness of the worldwide market segments.
Online fashion students will receive mentoring and encouragement to build their unique vision and design philosophy. Moreover, the program offers various specialized and broad online fashion courses, such as:
Drawing for Fashion
Applied Textiles
Fashion Industry Preparation
Fashion Visual Research and Design Development
Fashion Design Communication
English Composition: Creative Persuasion & Argument
Fashion Industry-Based Design Competitions
Because this is a liberal arts program, fashion design students should expect a well-rounded education in the humanities, arts, and sciences. The online courses allow students to study in context with the key areas of art and design by highlighting linkages between the two.
---
Johnson and Wales University
Location: Charlotte, North Carolina
The online Bachelor of Science in Fashion Merchandising and Retailing at Johnson and Wales University is for students who want a successful career in the fashion world beyond design. This degree focuses on preparing students for entry-level fashion merchandising careers.
The program encourages its students to participate in hands-on learning opportunities to showcase and improve the skills and knowledge they've gained throughout the degree program. Online students can participate in internships, guided experiential education, summer jobs, or study abroad programs.
But before being able to participate in hands-on learning opportunities, students need to complete online courses, including the following:
Strategic Planning in the Fashion Industry
The Textiles Industry
Introduction to Retail and Fashion
Forecasting
Retail and Fashion Lab
Students can choose their specific career concentration courses. In addition to general, core, and concentration courses, students can further tailor their degrees and declare a minor in Human Resource Management. Declaring a minor will help students gain more abilities to fulfill daily objectives and formulate a blueprint for long-term success.
---
Rocky Mountain College of Art + Design
Location: Lakewood, Colorado
The online Bachelor of Fine Arts in Fashion Design at Rocky Mountain College of Art + Design is tailored for aspiring fashion designers. To prepare students for the fashion industry, the program will require them to create their own fashion portfolios before graduating.
This program aims to help students better grasp consumer culture as it relates to fashion design. The courses explore the fundamentals of product creation, sales, and marketing.
Sample online courses include:
Fashion Illustration
CAD Design Skills
Draping and Pattern-making icon
Draping + Patternmaking
Sustainable Design Thinking
Textiles + Materiality
Product Development + Management
Students will also participate in courses that will increase their knowledge of the relevance of issues affecting the fashion industry, such as diversity, social justice, ethical fashion practices, and their environmental effects.
The program's faculty have collaborated with some of the top professionals in the field. Students can immerse themselves in the same pool of expertise and imagination, developing skills that will help them gain strong business and communication skills and allow them to forecast industry trends.
---
Southern New Hampshire University
Location: Manchester, New Hampshire
Southern New Hampshire University's online Bachelor of Science in Fashion Merchandising is among the best degrees for students with transfer credits. The program allows students to transfer up to 90 credit hours and graduate in less than four years.
The program aims to help students learn the fundamentals of fashion merchandising while developing a timeless sense of style. Students learn from experts in fashion design and fashion merchandising industries. The online courses are taught in small class sizes to allow students to interact with instructors.
Courses of the program include:
Introduction to Fashion Merchandising
History of Fashion and Costume
Sustainability in Fashion
Merchandise Management Strategies
Fashion Research and Forecasting
Strategic Fashion Management
In addition to coursework requirements, students will be encouraged to participate in US-based internship opportunities. Students will receive guidance and instruction from some of the country's best retailers.
Online students at SNHU are also given the same type of student support services as their on-campus peers. These options include writing assistance, tutoring, online student groups, and fashion-related professional organizations.
---
Old Dominion University
Location: Norfolk, Virginia
Old Dominion University has an online Bachelor of Science in Occupational and Technical Studies focusing on Fashion Merchandising. The program's curriculum helps students prepare for fashion careers that involve buying, selling, and manufacturing products.
Courses of the program can be completed online. And thanks to its asynchronous learning option, students can access the course materials online from anywhere. However, students may need to attend live, scheduled online meetings for their core courses.
The fashion merchandising concentration offers courses that teach students about the fashion industry's planning, purchasing, and marketing facets.
Fashion Forecasting Marketing Trip
The Foreign Fashion Market Trip
Visual Merchandising and Display
Fashion, Textiles, and Construction Analysis
Web-Based Organization for Fashion
Through these courses and the school's distinguished faculty, students will learn how to research current fashion trends, make informed financial decisions, and create plans to satisfy market demands. Students can also choose elective classes in subjects like social networking, e-commerce, and fashion forecasting.
In addition to online coursework, students will also participate in an internship to use their skills and knowledge in the workplace.
---
Miami International University of Art and Design
Location: Miami, Florida
The online Bachelor of Arts in Fashion Merchandising at Miami International University of Art and Design is a degree that helps students to gain knowledge in the design and business aspects of the fashion industry.
Courses of the program explore topics in Marketing, Management, Buying, Public Relations, Advertising, and Styling. These courses will teach students about design and production, marketing and branding, publicity, and the strategies for creating a distinctive fashion brand.
Moreover, students will learn with a flexible online learning format that allows them to create a schedule that meets their needs. They'll learn from a talented group of peers and educators willing to share their struggles and knowledge of the fashion industry, giving students ideas on what problems they may encounter and how to solve them.
Online students, however, will be required to visit the campus and collaborate with other students to plan and execute a professional photo session. This will help them build their portfolios and be ready for the industry.
---
Berkeley College
Location: New York City, New York
Berkeley College is another school that offers an online degree program that allows students to develop strong business skills and gain fundamental knowledge about facets of fashion. The online Bachelor of Business Administration in Fashion Merchandising and Management is a creative degree program that teaches students about the whole global supply chain of the fashion industry.
Students explore various courses about consumer behavior, product development, merchandising, retail distribution, marketing, and sales that can be used in multiple industries.
Sample coursework:
Introduction to the Fashion Business
Fashion Textiles for Apparel and Home
Product Development
Merchandise Planning and Buying
Interactive Fashion Communication
Fashion Innovation & Digital Transformation
Part of the program requires students to create marketing and sales plans to aggressively market and sell their goods and services through various distribution and marketing channels. This is done through a capstone course.
The capstone course allows students to utilize and showcase their skills. Students evaluate customer demands, examine market trends and activity, and create sustainable goods and services that satisfy consumer demand.
---
Central Michigan University
Location: Mt Pleasant, Michigan
Central Michigan University's online Bachelor of Arts in Fashion Merchandising and Design is a top-ranked fashion degree in Michigan, offering two online concentrations: Product Development and Visual Merchandising.
The Product Development concentration is designed for students who want to focus on gaining the abilities required to develop and market new trends and fashion lines. Courses of this concentration include:
Apparel Quality Analysis
Fashion Design: Illustration
Experimental CAD for Fashion
Apparel Product Development
3D Printing and Fashion
On the other hand, students who want to develop the ability to create appealing presentations using the arts and science to persuade consumers should pursue the Visual Merchandising concentration. Students develop strategies and techniques valuable in physical and online retail environments. Courses of this concentration include:
Introduction to the Visual Arts
Visual Business Communication and Digital Media
Visual Merchandising
Fashion Advertising and Promotion
Computer-aided Design for Visual Merchandising and Presentation
Advanced Visual Merchandising
Students who want to gain knowledge in both concentrations may apply for a double concentration. Regardless, students will complete a capstone course that'll help them use 3D avatars to retail merchandise locations and have the chance to finish a study abroad program.
---
Savannah College of Art and Design
Locations: Atlanta and Savannah, Georgia
The Bachelor of Fine Arts or BFA in Fashion Design offered by the Savannah College of Art and Design is one of the most flexible online programs in fashion. Students can seek help creating a schedule for their online courses.
SCAD's online fashion design degree offers courses that give students a combined form and function knowledge of fashion. Students will explore topics that will help them realize their own vision and the creative and professional procedures for concept development, fashion drawing, patternmaking, draping, and garment construction.
Major course requirements include:
CAD Fashion Design
Advanced Fashion Sketching
Pattern Development
The Business of Fashion
Fashion Design: Concept Development
Each course will be taught by industry experts. Alexander McQueen, Calvin Klein, Saks Fifth Avenue, and other fashion companies are familiar to the fashion faculty at SCAD. The majority of the faculty has had their work featured at fashion week events in Paris and London. Some professors also had the chance to showcase their work in magazines.
---
LIM College
Location: New York City, New York
LIM College is an institution built to focus on the business of fashion. The institution offers several online programs, including the online Bachelor of Business Administration in Fashion Merchandising, focusing on Retail Buying & Planning. The BBA degree is the ideal entry point for doctoral study.
This online fashion degree program prepares students to become qualified applicants for various fashion and allied industry jobs. The curriculum is composed of a foundation of liberal arts and business core courses, as well as numerous professional courses geared toward the fashion industry.
Fashion Merchandising course requirements include:
Fashion History and Global Attire
Textiles
CAD For Merchandising
Buying & Merchandise Math
Product Development
Web Product Data Management
Intro To Visual Merchandising
Furthermore, students in the fashion merchandising program can also choose to minor in other subjects for a more specialized study. Following are some of the few options:
Fashion Communications
Fashion Publishing
Visual Merchandising
Cosmetics
Digital Business Strategy
Home Fashions
Styling
Online students can participate in internship opportunities at large fashion and fashion-related companies. Students can also apply for study abroad opportunities to broaden their horizons and improve cultural awareness.
---
Lindenwood University
Location: St. Charles, Missouri
The Bachelor of Science in Fashion Business and Entrepreneurship at Lindenwood University is an online program that allows students to learn more than just the latest fashion trend. This fashion degree explores topics such as fashion marketing, management, economics, and design to become an entrepreneur. Students will also learn other facets of the industry.
Students in the program receive a curriculum that uses immersive reality technology, such as virtual reality, in which you'll need a reality headset and application identified by the department. This makes this degree one of the most engaging and exciting programs, perfect for students who want to develop more knowledge and proficiency in technology.
Courses of the program include:
Principles of Financial Accounting
Digital Apparel Production Management
Fashion Business and Entrepreneurship
Business Law
Introduction to the Fashion Industry
In addition to the required online courses, students can customize their degrees and choose their own electives. Some elective choices include Luxury Branding, Merchandising, and Visual Display; Fashion Marketing and Global Consumer Behavior; and Fashion Writing and Global Communication.
The curriculum will also require students to complete an internship and fashion business capstone. These requirements will help them use and maximize their skills. The internship opportunity will help students create professional networks that will help them launch their careers in the industry.
---
Liberty University
Location: Lynchburg, Virginia
The Liberty University online Bachelor of Science in Fashion Merchandising degree focusing on Fashion Writing is best for aspiring fashion journalists.
This degree program gives students the information and skills they need to work in and help influence the dynamic and fascinating media and fashion sectors. The course integrates fundamental fashion knowledge with journalistic ideals and abilities to help students connect with others through blogs, articles, and social media.
Featured courses:
Historical Fashion and Design
Media Writing
Social Media Writing
Fashion Writing
In addition to helping students create their own ideas and ventures, this degree program will also help students engage with current communication practices, trends, and issues facing the fashion industry. Graduates will have the capacity to contribute to some of the most well-known publications and websites in the sector.
To help students become more competitive in the fashion writing industry, the program will require them to complete a mandatory internship and capstone project. These requirements will give students a chance to develop practical experience and showcase the knowledge they've gained.
---
Additional Info: Best Online Bachelor's in Art and Design with a Concentration in Photography
---
Fashion Design Course Curriculum
As seen on the list, there are several types of fashion degrees. The most common, however, are fashion design, fashion management/marketing, and fashion merchandising.
Students will hone their technical skills and industry knowledge depending on the area of fashion they choose to pursue in college. But, in general, the following are the most common courses found in all areas of fashion degrees at the baccalaureate level:
Introduction to the Fashion Industry
This course gives students a thorough introduction to all the major aspects of the fashion industry, from branding and design, through clothing manufacturing and the supply chain, to the evolving nature of fashion marketing and retail, in this online course.
Computer-Aided Pattern Making
This course provides an overview of how computer-aided manufacturing can be applied to traditional pattern cutting, grading, lay planning, and fashion design skills. Students will also learn to use the RichPeace CAD/CAM Software packages.
Creative Fashion Design
Students will learn how to draw, make storyboards, and identify design components in clothing. This course allows students to learn and practice the foundations of fashion illustration and presentation while paying close attention to silhouette, proportion, line, and detail.
Drafting and Sewing
Students will discover how to create fundamental building blocks using their own predetermined measurements and develop their confidence in fundamental building and stitching methods. Students will develop the ability to translate measurements to flat patterns and master the fundamentals of sewing machine operation.
Fashion Marketing
This course is about developing and implementing marketing plans for the fashion industry. Students also learn to organize events, fashion shows, and product launches and how to handle connections with the media.
Fashion Show Production
This course studies both established and cutting-edge fashion presentation techniques. This discusses creative direction, format possibilities, venue, talent, and production team sourcing and budget management. This course will also explore the function of fashion shows in brand PR and the variety of pre-show and post-show actions fashion brands engage in.
Fashion Sketching and Drawing
The course covers how to convey fabric and garment shape on the body and the ideal technique to present your ideas in a drawn lineup. It also covers using sketches to examine body proportions, posture, and movement.
History of Costume
This course will examine historical Western fashion and costume for men and women from antiquity to the present and the social and political developments that influenced each period's fashion.
Textile Principles
This course outlines the fundamental components of textile creation, including fibers, yarn, fabric formation, color, prints, and completed products. Students learn about the fundamentals of sourcing textiles internationally in this course.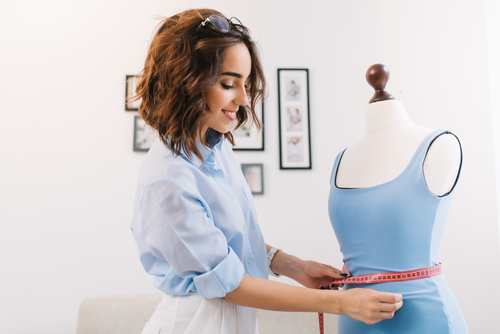 Common Career Paths
The fashion industry is challenging and competitive. Its market size is predicted to reach $336.80 billion this 2023, raising the number of jobs being created and encouraging more and more students to pursue careers in this field.
Fashion Designer
Fashion designers are responsible for researching and analyzing fashion trends, drawing clothes and accessory designs, visiting manufacturers, choosing fabrics, engaging with clients, and holding fittings. Successful fashion designers possess multiple talents like artistic and creative ability, a sharp eye for detail, flawless drawing, and excellent business acumen.
Average Annual Salary: $77,450
Fashion Coordinator
Fashion coordinators are responsible for conducting in-depth fashion market research, keeping up with fashion trends, assessing consumer buying habits, and forecasting consumer behavior. Positions in this sector require applicants to have excellent communication skills, an aesthetic eye, analytical capabilities, and time management abilities to succeed as a fashion coordinator.
Average Annual Salary: $52,172
Visual Merchandiser
Visual Merchandisers make eye-catching visual displays for retail spaces and ensure the visuals appeal to the target market. They are also responsible for conducting in-depth research on fashion, design, and lifestyle trends. Successful visual merchandisers can take constructive criticism in addition to having the necessary technical and practical skills.
Average Annual Salary: $40,061
Fashion Journalist
Fashion journalism comprises reading about the most recent fashion trends and writing about them. A fashion journalist's main goal is to use the media to demonstrate current trends to the public. Influential fashion journalists have a distinctive writing style, a strong grasp of the media landscape, and a passion for the business and its most recent trends.
Average Annual Salary: $50,500
Pattern Cutter
Pattern cutters create patterns based on the sketches and designs of a fashion designer. After that, sample garments are made using these patterns. Applicants should have technical expertise, strong organizational abilities, and a sharp eye for detail.
Average Annual Salary: $36,289
Garment Technician
A garment technician is a liaison between the factory and the fashion house they work for. They are in charge of a garment's flawless fit, quality, and functionality. They have a practical and active role in ensuring that a garment is constructed efficiently and follows the standards and ideals of the fashion business.
Garment technicians must have qualities like perseverance, flawless communication skills, knowledge of garment production methods, an innovative mindset, and the capacity to create successful plans.
Average Annual Salary: $37,213
Retail Store Manager
Retail managers supervise the daily activities necessary for a retail business, including sales, employee management, resource and stock management, and scheduling. To succeed as a retail manager, one needs strong people, communication, interpersonal, organizational, and business awareness abilities.
Average Annual Salary: $52,180
Public relations officer
There are numerous positions in public relations in the fashion industry. It's a competitive industry that requires networking with the media and other fashionistas, maintaining your brand in the lead, and responding promptly to unfavorable media coverage.
Average Annual Salary: $62,800
Other positions you can apply for with a bachelor's degree in fashion.
Arts administrator
Higher education lecturer
Jewelry designer
Event manager
Make-up artist
Talent agent
Market researcher
Tips for Pursuing a Career in Fashion
There's no overstating how difficult landing a career in fashion can be. It's even more challenging to establish a name.
With many people obtaining a fashion degree, the competition is only getting harder. So what can you do to stand out in the pool of applicants?
Well, there are several things you can do; but we will only cover the essentials.
Pursue Your Passion
Before deciding to immerse in an online fashion school, always consider your passion; this will keep you alive in the industry. If you're doing what you love, you won't rapidly lose interest or get burned out quickly.
Passion is another crucial factor in securing a job in the industry. As you've seen in movies, hiring officers are very strict when considering applicants. If you want a career in the fashion industry, you'll need to communicate your passion effectively in both your cover letter and during interviews.
Create Your Own Connections
Remember, 85% of jobs are landed through networking. This means breaking into the fashion industry with no connections will be very difficult.
While you might not be fortunate enough to know people who are already employed in the fashion sector, you can take steps to change that. Using networking sites like LinkedIn might help you stand out from other job applicants. Alternatively, you can send recruiters a note asking for more information about the position you're interested in and the type of applicant they're seeking.
This step is often uncomfortable to many, but it is crucial for specific positions. There are thousands of candidates for entry-level roles at large fashion companies. Even if you have an excellent résumé, it's probable that your application won't even be looked at until you go above and beyond and make an introduction to someone in the firm.
Seek Out Internships
If you've noticed, all the schools on the list require or encourage fashion students to complete internships. This is because internships are crucial for experiential learning.
Being an intern in the field will allow you to learn terminology and other practical aspects of a career that a degree cannot cover. It is also a great confidence booster and will beef up your resume.
This is also a great way to build professional connections.
Essential Skills for a Fashion Designer Job
Knowledge of Fashion History
The fashion industry is very fast-paced, and staying a step ahead is important. To do it, you need to be familiar with earlier trends and movements in fashion history.
Ability to Perform Under Pressure
A career in fashion design is not for the weak of heart. Job positions in the fashion industry are very demanding. Anyone considering this career path should be able to perform well under pressure and be willing to collaborate with others.
Additionally, you must be able to take criticism. Critics are often harsh. Successful fashion peeps can keep their unique style while learning from criticism.
Creativity and Style
The fashion industry is a rapidly evolving sector. To keep up with the latest and create new trends, it is imperative that you have a natural sense of creativity and style.
You need to have excellent drawing skills as well. You must learn to glean inspiration from earlier trends and envision new options for your upcoming designs. You must innovate and give things a new perspective.
People in the fashion industry need artistic talent and uniqueness to flourish, from concept to execution.
Business Know-How
Fashion is not all about sewing, sketching, bedazzling, etc. Fashion is business, so learn the ropes! You cannot rely solely on your aesthetic vision to succeed in this fiercely cutthroat industry. Understanding the fundamentals of marketing and business will help you achieve your objectives.
Financial Aid for Fashion Students
While the cost of fashion schools depends on several factors, such as location, student residency, institution type, and specialization, it'll likely burden many prospective students.
If you're short on budget, you can enroll in associate degree programs at community colleges and pursue a bachelor's degree later.
Since online colleges do not charge for housing and board, total costs are typically lower.
If you want to lower the overall cost of your online fashion degree, you can start by completing the FAFSA. The school(s) to which you have applied will advise you of the sorts of financial help available to you after receiving this data.
The most beneficial financial aid is non-repayable. These consist of financial aid packages from your state, the federal government, and the college you attend. Although many students are also eligible for federal or private loans, the total cost of obtaining a degree may increase dramatically. Both need interest repayment, yet federal loans often have lower rates, making them preferable to private loans.
You can also apply for private scholarships made for students in fashion. Two of the most popular scholarships for fashion students are CBC Spouses Visual Arts Scholarship and FSF Case Study Scholarship.

Frequently Asked Questions
What is a Bachelor of Fine Arts in Fashion?
BFA degrees in Fashion are best for students with a creative side and an eye for style and design. Because the BFA is a very technical degree focusing on designing clothing, fabrics, and accessories, graduates will be qualified for positions like fashion designer, textile designer, or pattern maker.
What is a Bachelor of Arts in Fashion?
Liberal arts courses like English, history, and physics are also included in a Fashion BA degree program. Textile designers, fashion designers, and retail managers are among the professions related to a fashion BA.
What is a Bachelor of Science in Fashion?
A BS in Fashion often focuses on marketing or merchandising and gives students a solid foundation in the business of all things related to fashion. Graduates will be qualified for occupations like e-commerce specialist, PR officer, brand manager, and fashion marketing manager.
Are Fashion Designers paid well?
The average fashion designer might be unable to afford the hundreds of thousands or even millions of dollars the well-known personalities in the field most likely make. Although the starting compensation for fashion designers is way below the million-dollar barrier, there is room for advancement in this well-paying field.
What does a Fashion degree entail?
Students who major in fashion are more equipped to address fashion's materials and procedures with creativity and knowledge. Additionally, it allows students to design and create fashion concepts, techniques, and ideas while adhering to the industry's rules and ethical standards.
Key Points to Ponder
Online bachelor's in fashion degree programs encourage/require students to grab experiential learning opportunities, such as internships and study abroad programs.
Fashion degree programs train students to approach clothing analytically, research fashion history, and keenly observe current trends.
For individuals who wish to create a career out of fashion, numerous routes are accessible in this fast-paced and continually expanding sector.
---
Don't forget to check this out: Best Online Bachelor's in Art and Design with a Concentration in Web Design