Find Your Perfect School
Premium Schools is an advertising-supported site. Featured or trusted partner programs and all school search, finder, or match results are for schools that compensate us. This compensation does not influence our school rankings, resource guides, or other editorially-independent information published on this site.
The number of workers in the US Web Design Services industry has increased over the past five years. Occupational opportunities for competent web developers and digital designers are projected to increase by 23% in the next decade, says the Labor Statistics Bureau.
Because of all these demands and supportive data, it's wise to pursue an Online Bachelor's in Art and Design with a concentration in Web Design if this is the career path that you're looking for.
Quick Summarization
Today's most creative web pages and software applications have help from web designers, particularly in the areas of content creation, graphic design, and web development. Marrying the concepts and skills that students learn in an online Web Development degree, Web Design programs are also a training ground for developing the most eye-catching animated digital content.
An online Bachelor's in Art and Design with a Web Design specialization program combines computer business applications, communication, and personal finance management with the basics of creating and producing visual elements for a site.
Quick audio summary:
---
Additional Resource: The Best Schools For Becoming a Web Developer: Degree and Job
---
Methodology
Find a Web Design bachelor's degree online that lets you study at your pace without losing sight of your academic and professional goals. Our recommended online schools have excellent features that make distance learning a viable option for educating high-skilled Web Design graduates.
The following factors were considered in developing this list:
Fully online or hybrid delivery of the same quality and structure as their on-campus counterparts,
Rigorous coursework that develops and enhances students' technical and soft skills, demanded by employers in web design industries today,
Professional web designers as professors who provide top-quality instruction,
Officially recognized by regional accrediting agencies, demonstrating standard academic compliance,
Cutting-edge technology and first-rate online learning platforms ensure smooth online classes and lectures,
A full range of federal financial aid and tuition assistance options, or affordable per credit hour rates,
Stellar reputation among program stakeholders and the web design industry,
Please read our Methodology for more information.
15 Best Online Bachelor's in Art and Design with A Web Design Concentration
Arizona State University
Location: Tempe, Arizona
Arizona State University's Bachelor of Applied Science in Internet and Web Development provides you with a solid foundation in web design principles. In terms of learning the nuts and bolts of web development, you'll be able to learn how to reach out to the target audience effectively. As a graduate of this internet and web development program, you will have the opportunity to work in the growing field of guiding organizations' web presence and helping them achieve their web design goals.
Some of the technical skills that you will brush up on in this online bachelor's program are:
JavaScript
CSS
HTML
Visual design
User-centered design
You can learn tools, software, and project concepts related to effective web and internet design in this online web design degree. In this regard, the design of cross-media applications and cross-platform web applications are included, as well as the design of multimedia, usability, and user experience.
Students must complete a capstone project by the end of the 120-credit program that will improve their critical thinking, communication, and research abilities. As part of this senior project, students are also able to demonstrate their technical skills.
---
Bellevue University
Location: Bellevue, Nebraska
Bellevue University offers a Bachelor of Science in Web Development degree that simplifies your study experience with a manageable course load. Classes are taken online with the same design as on-campus counterparts. Your network will be more concrete and broad upon graduation, and you will have more actual experiences.
An intensive web development boot camp is required as part of the program to improve full-stack web development skills developed in APIs, frameworks, and languages. Students learn about database development, user interfaces, web services, and other topics while completing complex JavaScript projects in groups or individually.
Here are some of the web development stack skills that you can acquire from this online program:
JavaScript
TypeScript
DevOps
API
Angular
Agile Methodologies
Container Technologies
Cohort-based delivery is also used for the program. Classes are attended online, library research is conducted, writing assistance is provided, and discussion activities and assignments are submitted through an online platform. Tutoring and Study Skills Center offers free peer tutoring to help distance students succeed academically.
---
Brigham Young University
Location: Provo, Utah
One of the best web design online degrees available is at Brigham Young University. You can enroll in an online Bachelor of Science in Web Design and Development. By learning about and gaining experience in fields such as online media, visual media, programming, web business creation, and web front-end and back-end development, students will become more prepared for careers in these fields.
Even when web design fields are rapidly evolving, BYU-Idaho's Web Design and Development program will ensure that you can compete in this competitive industry. As a result, you will gain the skills and knowledge that are necessary for working in many different types of IT-related positions. Prospective students will learn more about designing websites and software through this program.
Also, by completing the web development certificate, learners can learn how to build dynamic web applications using servers and tools. Finally, an internship or senior project culminates in this program.
---
Liberty University
Location: Lynchburg, Virginia
Access to quality education is something vital at Liberty University. This is one of the goals of their Bachelor's degree in Web Design online. Prospective students can choose between multiple start dates every year and freely take classes online anywhere and anytime. It is possible to focus on your family, career, and other priorities with flexibility like this.
It is possible to create a network of alumni and nurture professional relationships with faculty and classmates while at Liberty University. No matter where your career takes you, you can be confident with connections like these.
Some of the web design and related fields that you can pave a career in are the following areas:
Graphic design
Digital media
C# programming
Web enterprise technologies
Mobile web design
Web development
User interface analysis
Additionally, the program enables students to formulate solid real-world solutions by applying theory and practice to the area of digital media. Furthermore, it emphasizes integrating cutting-edge technology and design with biblical ethics and principles applicable to web design and development while integrating cutting-edge technology and design.
---
Southeastern University
Locations: Florida, North Carolina, South Carolina and Louisiana
Southeastern University offers a Bachelor of Science in Digital Media & Design degree that provides a thorough overview of creative design, which is in high demand for modern employers in numerous industries. As you learn from professors with real-world experience, you gain leadership skills and become a better communicator, digital marketer, and graphic designer.
Expect to learn core courses such as illustration, digital media production, logo design, graphic design, digital design theory, and marketing analytics. Learn more about the growing industry of web design and digital media through this online bachelor's program.
Check out some of the possible job occupations that you can land after graduation with this online degree:
Web designer
Art director
Graphic Designer
Digital marketer
Digital Illustrator
Visual artist
Photographer
Web developer
Photojournalist
Courses in mass communication law and writing for digital media are included in the curriculum. In addition to learning layout and imaging principles, students learn how to design advertisements effectively. With 30 guided and open electives, they can tailor their degree plan to meet their individual needs.
---
Baker College
Location: Several locations in Michigan
Baker College comes with an online Bachelor's program in Information Systems (Web Development Concentration) degree. This is best for students who want to build their expertise in both technology and business. A comprehensive network of responsive, proactive, and dependable information delivery systems is the result of the integration of business and technology.
Each organization's information systems provide the tools for addressing business challenges, managing operations, interacting with suppliers and customers, and maximizing revenue and performance. You can gain a competitive edge with any organization today by adding web development skills to your information systems background.
Here are some characteristics of this online information systems degree from Baker College:
It requires 120 credits over four years.
In addition to the general education requirement, the program includes 69 hours in the major of information systems, as well as 21 hours in the concentration of web development.
Some of the courses you'll take in this online degree are web design, programming languages, business analytics, and system modeling and design.
Technology and tools help information systems professionals manage operations, provide customer service, and improve revenue and performance. If you want to pursue higher education, this is a concrete step that allows you to proceed to a Master of Science in Information Systems.
---
University of Arizona
Location: Tucson, Arizona
The Bachelor of Arts in Design Arts & Practices at the University of Arizona offers an interdisciplinary approach to design practice and theory. Through this online degree program, you will learn how to design experiences across a variety of scales and media. Your creative vision will allow you to solve complex problems and solve grand challenges.
Disruptive technologies and digital storytelling are among the classes students take. Additionally, you'll get to study social media and cybercrime and learn how cyberattacks affect individual or political data. Open-source hacking techniques are also taught to online students.
Here are what you should expect in this design arts degree online:
By utilizing rapid prototyping and fabrication, multifaceted designers create innovative solutions to communicate complex information.
You will progress from core skills into larger theories and issues and culminate in a final capstone project by taking courses in art, design, information studies, and technology.
Students receive a project-based education that incorporates new technology and develops creative strategies in response to contemporary issues.
A range of environmental, social justice, and design challenges will be addressed in the capstone projects.
---
Southern New Hampshire University
Location: Manchester/Hooksett, New Hampshire
Graphic design is something that e-commerce owners and managers should pay more attention to. SNHU's offers an online BA in Graphic Design and Media Arts. With one of the nation's lowest online tuition rates, this program provides you with the tools, feedback, and support you need to master your craft.
You can develop the skills required to be employed in any IT-related job. Some of the coursework included in this online program includes the following:
Print Media Graphics and Layout
Desktop Publishing
Digital Graphic Design for Web
In this online program, you can build a portfolio that demonstrates your ability to tell a story visually. You can learn how to translate your ideas through print and digital media as part of SNHU's newly redeveloped online graphic design degree program. A web design concentration develops students' skills for selling products and ideas to diverse audiences.
A graduate's career options include multimedia design, production artistry, and marketing. As well as being a valuable opportunity to build your portfolio, an online graphic design degree offers you a chance to grow your salary.
---
University of Maine
Location: Augusta, Maine
Another option for you to take is the University of Maine's online Bachelor of Science in Computer Information Systems – Web Development.
Some of the core courses you can take are:
Database design
Web design and development
Networking and security
Systems analysis
Applications development
Basic programming
Elementary statistics
There are also vast choices of electives designed specifically for career advancement. The objective of this online program is to provide students with the skills necessary to develop software and maintain databases.
Graduates should possess competence in basic accounting, communication, and project management skills. By requiring internships for the bachelor's degree, students have the opportunity to gain real-world experience relevant to computer information systems.
---
University of Maryland Global Campus
Location: College Park – Adelphi, Maryland
The University of Maryland Global Campus offers an online Bachelor of Science in Digital Media and Web Technology program. This online degree program is about learning about digital media using different platforms and tools. You'll also learn about the strategies and updated technologies for this field. This program offers constant technical and career planning assistance to ensure that every student gets the most out of their online education.
Upon completing this online bachelor's degree, you'll be able to attain the following outcomes:
Analyze digital media resources available
Produce web and digital media designs and developments
Develop and test different web and multimedia designs and applications
Learn and master digital and print media practices, applications, and theories
Have hands-on experience in using virtual reality and augmented reality
Develop mastery of skills in graphic design, game design, motion graphics, and user experience.
---
Franklin University
Location: Columbus, Ohio
Franklin University offers a high-quality online Web Development Bachelor's degree program. By taking this course, you will be exposed to the various disciplines involved in developing websites that modern industries need in their business landscapes. By completing this course, you will be prepared to supervise contractors, manage internal teams, and collaborate with others throughout the entire web development process.
Some of the web development courses included in this program will brush up your skills in:
Front end development
Web development
Database development
Graphic design
User experience design
It's easy and convenient to get started with Franklin as an online student. There are three trimesters every year, and each trimester begins at a different time.
---
Full Sail University
Location: Winter Park, Florida
Full Sail University offers a Web Development Bachelor of Science degree program, which can be finished in as little as 32 months. Students learn to integrate and deploy modern web applications and websites. Using industry-standard tools, you'll master the programming languages, database systems, and frameworks commonly used in web development and are mostly in-demand by employers.
This degree program prepares graduates for modern web stacks by teaching them industry-standard tools and frameworks. Database structures, client-side languages, and non-relational databases are some examples of industry-standard tools.
Additionally, graduates must develop a portfolio of their talents and work demonstrating their career direction. No matter what your professional goals are, this program will help you attain higher pay and be more competitive in job applications.
Courses include:
Visual Frameworks
Interfaces and Usability
Programming for Applied Design Tools
Web Applications
Emerging Interface Design,
Designing for Web Standards and Interfaces
One of the best features of this online program is the Project Launchbox. Using this technology, students can create projects with ease. Every piece of coursework, every multimedia creation, is available to you 24/7 with this feature.
---
University of Wisconsin-Steven Point
Location: Stevens Point, Wisconsin
The Web Development major program at the University of Wisconsin-Steven Point is available for students who are fascinated with web design and web development. This online degree prepares graduates through a user-centered design approach to collaborate on the study, design, and development of interactive products and services.
A web development graduate can impact new software programs, websites, and devices directly through user research, interaction design, prototyping, and evaluation. During this program, you can master web development software such as Axure RP and Adobe CC Suite.
In this online major in Web Development program, foundational topics in computing will be introduced to you from your first semester. With courses that are usually capped at 24 students, you will have the opportunity to get to know the faculty and academic staff well, and you will work with them on undergraduate research and independent studies on a variety of topics such as game design, front-end web development, and web design.
Students in the UW-Stevens Point Web Development program learn how to design, develop, and evaluate interactive technology.
Upon graduation from this online program, you will be trained in the following areas:
User experience design
E-Commerce
Web Design
Web Development
Mobile development and design
Interactive design
Web Development majors and minors rank among the top on campus when it comes to obtaining employment and continuing their education.
---
Lindenwood University
Location: St. Charles, Missouri
The Bachelor of Fine Arts in Art & Design with an emphasis in Web and User Experience at Lindenwood University comes with 78 credit hour requirements. With this emphasis, you'll learn to design for the web, create videos, and animate.
Get ready to take classes in the following:
3D printing
Digital Media
Mobile Applications
3D Graphics
Motion Graphics
During your senior year, you'll take classes on the Adobe Suite and other programs, which will allow you to become Adobe Certified in a different program each semester as you build your credibility as a designer. One of the best features of this online web and user experience program is that you can have a class held at the Digital and Web Design firm located at Lindenwood.
On campus, students work at this design firm to gain real-world experience with local clients. DWD Firm provides a great opportunity for you to build your portfolio as you get exposed to real-world projects and settings. Despite being an online student, this is something that you shouldn't miss out on.
---
Southwest Baptist University
Location: Bolivar, Missouri
Southwest Baptist University offers a Web Systems and Design major program that is devoted to integrating Christian faith and academics. The Web Systems and Design major at SBU prepares you as a software engineer who will be well-versed in visual content, web and software design and development, and web security. A minor in graphic design is often combined with this degree. After graduation, you'll create software solutions for some of the biggest companies in the US.
Here are some great reasons why enrolling in this program is a great decision:
SBU boasts a laboratory intended for cybersecurity processes, research, and studies.
In five out of the last six years, SBU CIS graduates have found employment within six months of graduation.
In addition to their Ph.Ds, all division faculty have industry experience and have taught for over 100 years between them.
By serving on the CIS Advisory Board, technology leaders and alumni help shape the program's direction.
One of only six evangelical Christian institutions in the nation with ABET accreditation, SBU produces many software engineers in the area. Rest assured, this online web systems and design program at SBU will help and support you to excel in a variety of software engineering careers.
---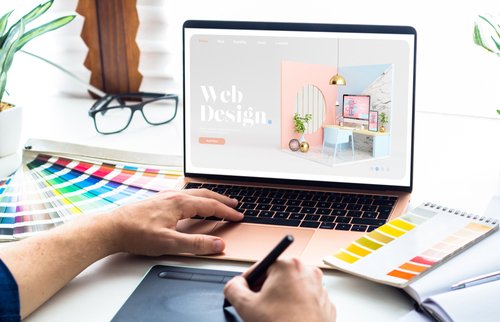 How to Become a Web Designer
Both technical and workplace skills can be useful to web designers. Learning or refining these skills can help you develop an eye for creative web or digital design.
Brush up on your soft skills.
While technical skills are primary requirements in the corporate world, it's similarly essential to focus on your soft skills. In terms of soft skills, they include time management skills, critical thinking, creativity, problem-solving, organizational skills, and attention to detail. Practicing these skills every day can help you develop them more and more.
One good piece of advice is to be more attentive to the creative choices that go into other people's designs to strengthen your attention to detail.
Enhance your technical knowledge.
Creating a website requires technical and design skills. You can become an effective web designer if you put more effort into honing your technical or hard skills. Acquire design skills by getting familiar with some tools and software.
Here are some of the important Web Design concepts, programs, or applications to learn:
Javascript
A scripting language such as JavaScript (JS) can be used to enhance the interactive capabilities of HTML and CSS. Using JavaScript, photo slideshows, interactive forms, and animated graphics can be generated and controlled.
UX
UX is a way of designing websites that considers what users need. The best UX designers put the most significance on how the users would feel when they use the website. Hence, the site should be user-friendly and accessible, and must come with the right visual aesthetics. Also, UX design should match it to mobile and other interface capacities.
HTML
HTML stands for hypertext markup language. In order to build a webpage, you will use this structure. This tool will teach you how to accomplish tasks like creating texts and inserting graphics and images. It also enables you to create hypertext links that allow users to jump from one webpage to another.
Photoshop Skills
Web designers today use Adobe Photoshop and similar digital imaging software as one of the primary tools. It's handy to have photoshop skills when you want to pave a career in web design.
Earning a Bachelor's Degree Takes You Closer to A Great Web Design Job
Consider pursuing a degree if you're dedicated to becoming a web designer. Along with good work experience, most employers would require you to have a bachelor's degree. Online bachelor's degrees come with the same quality as on-campus counterparts.
In order to earn a bachelor's degree in Web Design, you attend classes full-time for four or more years. The creative aspects of web design are highlighted in a Bachelor of Arts (BA) or Bachelor of Fine Arts (BFA). The degree you'll likely earn if you're going this way is likely to be in one of the fields, such as digital design or visual communication, with a web design emphasis.
Getting Certified
The next best tip in ensuring a job is to get certified. Through certification programs and degree programs, you can learn a lot about becoming a web designer. For those with little time or money to invest, certification programs are an attractive option. A community college or online program usually lasts one year or less.
Various coding languages, concepts in web design, and other single-subject certifications are available. Programs that combine several different subjects can also be found. In some cases, such certifications can also be used to pursue higher education, like a bachelor's or master's degree.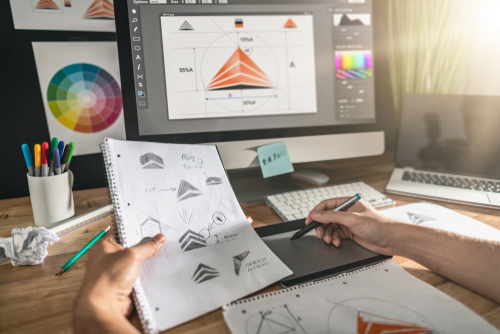 Courses in an Online Bachelor's in Art and Design – Web Design Concentration
Writing for the Web
In this course, you will learn how to design mobile applications, desktop applications, and tablets differently. Moreover, students gain a better understanding of HTML and CSS, as well as user experience. The course concludes with learners creating a website.
Graphic Design
A common form of graphic design software is the Adobe Creative Suite, so students will learn the basics of how to use it in the graphic design course. Some subtopics of this course include typography, graphic images, and layout.
Visual Design
Web design students learn how to create visually appealing web layouts when enrolled in the visual design course. This course will include topics such as branding, color theory, and imaging. The Adobe Dreamweaver is a software that will be taught to you in this core course. Finally, you can add some projects to your portfolio, which will help you attract more prospective employers.
Web Publishing
In this course, websites are built and uploaded, associated web pages are updated, and online content is posted. E-books, blogs, and personal websites are all part of web publishing. You will be trained in how to create this content. Such formats include videos, graphic and digital images, and artwork.
Animation Techniques
This course is primarily used in the animation industry but is also taken by web designers to reinforce their web UI designs. This course focuses on creating and incorporating animated images into websites. Animation can make your website more usable and improve your user experience if used properly.
Web Languages
Web designers need to learn technical skills, especially in the field of web languages. This course will help you develop your skills in JavaScript, HTML, and CSS. These languages are expected of all web designers. Most web design programs include these in their foundational courses.
Introduction to Programming
An introduction to computer programming is a vital course in a bachelor of arts degree with a web design concentration. Participants learn how to use Java and JavaScript to write web programs. You'll also learn how to analyze flowcharts, logic, and debugging web techniques.
Color Theory
Color theory is also studied by web designers because similarly, these are important for both artists and web designers. To create visually appealing websites, students should take this course. A web designer will have to make color choices in every project and website that they'll launch. To convey the right message and emotions to the target users, they must understand the psychology of colors.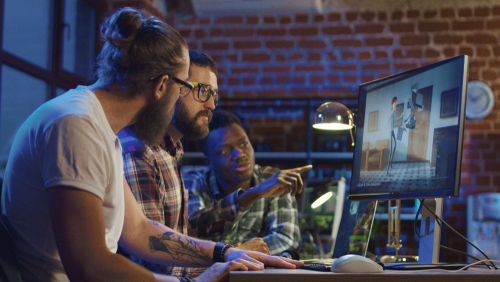 Potential Careers and Salaries for Web Design Majors
A variety of exciting careers are available to graduates of accredited online web design degrees. Whether you're preparing for a career in web design or is planning to shift to this industry, here are some of the most popular potential careers that you can find after finishing an online bachelor in design with web design specialization:
Media Animator
Salary: $70,309 annually
A media animator creates animations for media companies like televisions, video games, movies, and other digital media platforms. Most workers in this field hold a bachelor's degree in graphic design. There are many job openings in this field.
Web Designer
Salary: $71,855 annually
A web designer creates the layout, branding, colors, and typography for websites or web pages. A professional website developer can create a website that is easy to use, meets customer specifications, and appeals to a target audience. Web designers are hired in every industry as more and more businesses shift and transition to business online.
Graphic Designer
To design a website or product, these professionals combine colors, fonts, and other visual elements. Graphic designers work on different outputs such as logos, packaging, publishing products, print ads, website layouts, and many more. A graphic designer can work in an advertising agency, a newspaper or magazine, or a technology firm. Many freelancers also offer their services through project-based rates.
Web Developer
Web developers create and develop all systems and features of websites. It's a requirement to be well-versed in using JavaScript, HTML, and CSS. Web developers are in charge of developing websites and troubleshoot issues online. From menus to user interfaces, they handle everything about the website.
Data Analyst
Data analysts analyze data in order to solve specific problems by gathering and interpreting it. In addition to working with data, the role also requires communicating findings. Data analysts work with a lot of data that can be used for organizations and businesses, and they should remain accurate and precise.
---
More info to consider: Best Online Bachelor's in Business Management with a concentration in Digital Marketing
---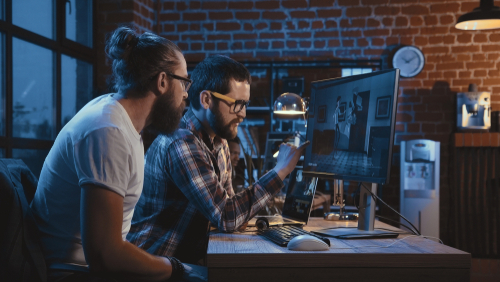 Frequently Asked Questions
Can you enroll in a completely online Bachelor's in Art and Design with a concentration in Web Design?
Fortunately, there are now a plethora of choices for an online bachelor's in art and design with a concentration in web design. Depending on your preferences and academic goals, you can match them with the best online degree in this field. With online education, you will be able to develop all the skills needed to design, develop, test, and maintain websites.
While some programs are designed completely online, there are those that require you to visit the campus for specific classes or activity requirements. The key is to choose one that combines high-quality academic learning and flexibility.
What can you expect from an online Bachelor's in Art and Design with a concentration in Web Design?
Creative students and computer-skilled learners will benefit from an online bachelor's degree in web design. In addition to graphic design skills, students gain expertise in HTML and CSS. Persistence and attention to detail are essential for web designers. Bachelor's degrees in web design can usually be earned online in four years of full-time study with about 120 credit hour requirements. However, it's possible to shorten the completion of some programs as long as you have acceptable transfer credits.
Students can concentrate their studies in the web design field, but it's possible to customize your program by choosing your electives. Aside from Web design, you can expect this degree to include many topics related to digital art, media, and graphic design. In addition to web design, students graduate with experience in print design, video production, and other digital platforms.
What makes Web Design different from (or similar to) a Web Development degree?
For those who want to build or create something from scratch, you might be eyeing to become a web designer. Getting to create beautiful things on the Internet sounds like a dream job to you. A web designer job will require you to use your creativity to create typography pairings, color schemes, and illustrations.
On the other hand, web development may also seem appealing to students focusing on learning the technical makeup of websites. A ton of jobs are available for software developers if you learn how to code. The ability to code allows you to build awesome websites and web applications.
Web Design and Web Development skills lead to top-paying jobs.
Key Points to Ponder
Web design careers are fast-growing occupations, with a demand that is forecasted to rise to 23% in the next decade.
Designing for a global audience and building websites that make an excellent lasting impression are some challenges involved in a career in web design.
Learning how to create interactive content with the use of Web design tools is the academic focus of Bachelor's in Web Design online programs.
---
Next, take a look at this: Best Online Bachelor's in Art and Design with a Concentration in Animation