Find Your Perfect School
Premium Schools is an advertising-supported site. Featured or trusted partner programs and all school search, finder, or match results are for schools that compensate us. This compensation does not influence our school rankings, resource guides, or other editorially-independent information published on this site.
In a broad sense, Geography is the education for life and living. It concerns the exploration of places and spaces, leading to an understanding of vast differences in cultures, economies, environments, landscapes, and political systems worldwide. It provides people with an ideal framework for connecting other areas of knowledge.
A degree in Geography is ideal for those interested in global issues and passionate about learning about cultures, societies, economies, and environments. It develops social and environmental consciousness, producing informed and responsible citizens.
In 2020 alone, Geography degrees produced 5,476 graduates all over the United States, with the highest concentrations in California, Washington, and Pennsylvania. Geography majors specialize in different areas and enjoy excellent and varied employment opportunities. The demand for cartographers, photogrammetrists, and other geography professionals is seen to rise by 3% from 2021 until 2031, or around 1,000 job openings every year on average.
---
Check this out for more information: Best Schools with Online Bachelor's in Anthropology
---
Quick Summarization
An online Bachelor's in Geography prepares students for successful careers in geography education, urban and regional planning, and environmental science, to name a few. An online degree program in Geography teaches students computer-based cartography, geographic information systems (GIS), and spatial analysis, contributing to groundbreaking research.
Methodology
Those interested in becoming a geography teacher, cartographer, or photogrammetrist should obtain an online Bachelor of Geography degree, especially if they do not plan on being a full-time student. However, choosing the school they will enroll in is important.
Check out the following criteria to know how we came up with the ten best schools that offer online Geography degree programs at the undergraduate level.
Lower tuition and other fees are important, especially for part-time students who may also be working or taking care of their families.
Classes should have a lower student-to-faculty ratio to ensure that instructors can provide ample support to each member.
Asynchronous and hybrid course delivery helps part-time students manage their schedules better.
Concentrations of specializations allow learners to choose an area of study they want to master, allowing them to obtain their professional goals.
Accreditation is another significant factor to consider because it indicates that a school or program complies with industry standards and provides students with the knowledge and skills employers look for in a candidate.
Faculty members must have terminal degrees and exceptional experience in the field.
Federal Student Aid opportunities must be available to make education more affordable.
Please visit our Methodology page to learn more about our process of selecting the best schools and programs.
---
10 Best Online Bachelor's in Geography
Oregon State University
Online Bachelor of Science in Geography & Geospatial Science students at Oregon State University harness the power of data analysis and geovisualization. They build rewarding careers in virtually all economic sectors and fields.
At OSU, Geography and Geospatial Science students also study natural and social science. This program features rigorous coursework that provides learners with highly transferable skills, putting them at the forefront of major global issues and initiatives.
This university is a member of The University Consortium for Geographic Information Science, and its BS in Geography and Geospatial Science degree program is one of the leading programs in the country. It is also accredited by the Northwest Commission on Colleges and Universities (NWCCU) and has consistently ranked among the country's top online education providers.
Online OSU students are assured of receiving the same diploma as on-campus students. They can be sure to get the help they need through easy access to vital resources, including online tutoring, career guidance, library services, and success coaching, to make distance learning more collaborative and rewarding.
This BS in Geography and Geospatial Science degree program at OSU includes these courses for its degree requirements:
Introduction to Statistical Methods
Human-Environment Geography
Transforming Environmental Conflicts
Foundations of Geospatial Science and GIS
Introduction to Geographic Field Research
---
Arizona State University
Arizona State University's web-based Bachelor of Science in Geography degree program lets undergraduates study the connections between human settlement and the features of the Earth's surface. Through this program, students get to explore the world's spatial patterns and, at the same time, understand its inhabitants. This prepares them for well-paying urban consulting, planning, and research jobs.
With ASU's BS in online Geography degree program, students will have a different perspective of the world and see it through the lenses of space and place. They develop an in-depth understanding of the environment by studying the Earth's climate, plants, water, landforms, and other surfaces. Because this program uses an interdisciplinary approach, students will also learn about the application of cultural geography, urban planning, geographic information science, and physical geography. They will also know how humans and the environment interact on Earth's surface.
Through an online Bachelor of Science in Geography, graduates will be able to prepare for careers related to geographic research methods, activism, research, management, restoration, and so much more, depending on the area of study they want to focus on, which includes social science, environmental science, and natural science. For example, those who choose a geospatial concentration can become geomorphologists, water resource specialists, hydrologists, business location analysts, or environmental impact assessment analysts.
Some of the featured courses for ASU's BS in Geography degree include:
Geographic Information Science
Introduction to Physical Geography
Introduction to Human Geography
Statistics for Geography and Planning
Social-Behavioral Sciences
---
Marshall University
With Marshall University's online Bachelor of Science in Geography program, students will graduate and earn a well-rounded education focusing on developing communication skills, exploring the latest geospatial technology, and better understanding the physical environment. This online degree includes topics in global environmental issues, geographic information systems (GIS), human geography, meteorology, and world regions.
This BS in Geography degree aims to prepare students to land high-paying jobs or advance in their careers in natural resource management, city planning, environmental protection, geographic education, and geospatial information analysis. Courses are designed by the same faculty who teach in-person classes using the latest tools and technologies.
Online students also receive the same support resources as on-campus students. These include library services, career consultation, technical support, and a writing center. They can also seek professional advice from faculty members to get answers to their questions about the program and to customize their learning experience.
Applicants with some general education credits can apply for transfer credits to this Geography program. These include subjects like communications, English, mathematics, and science. Students can transfer up to 72 credit hours to Marshall University.
Some of the core requirements for this online Bachelor's in Geography degree include:
Introduction to Human Geography
Physical Geography
World Regional Geography
Global Environmental Issues
Introduction to Meteorology
---
Liberty University
Through Liberty University's online Bachelor of Science in Geography, students will gain a fundamental knowledge of how geography impacts people's lives all over the world. This provides learners with valuable geographic insights that will help them pursue various career paths.
Liberty University's BS in Geography program features three sections: elective courses, major courses, and foundational courses, where they will study the fundamentals of earth science, probability and statistics, government, and economics. Major topics will give them an overview of geographic information systems, geographic research, physical geography, and political geography. Aside from that, they will learn about the fundamentals of meteorology and oceanography.
Through this online degree, learners will earn a world-class education through distance learning. Through its curriculum, undergraduates will be better equipped to analyze geographic landscapes and provide solutions to real-world problems that need geographical know-how.
Liberty University is a pioneer in distance learning and has offered it since 1985, which means that it completely understands its online students' needs, helping them grow professionally, personally, and academically. Various institutions also recognize this university's affordability, accessibility, and academic quality. It has ranked in the top three online schools in America. It is a Southern Association of Colleges and Schools Commission on Colleges– accredited school.
The major course requirements for this online degree program in Geography include:
History of Life
Regional Studies in Geography
Geographic Information Systems
GIS for Urban Planning
Oceanography
---
University of Florida
The University of Florida's online Bachelor of Arts in Geography degree connects students to a greater purpose by teaching them about what connects people and places. This degree program teaches learners a mix of economic and political systems, cultural practices, and natural resources, distinguishing every place on Earth.
In a gist, this online program in Geography teaches students about the human-made factors and natural events that explain what makes the world go round, what makes places unique, and how places interact and connect. This interdisciplinary program can help unlock students' potential to contribute to groundbreaking research by studying topics with social and environmental significance.
This Geography degree prepares students for rewarding careers in urban and regional planning, business geography, environmental science, geographic education, and medical geography. It also focuses on key human-environmental issues and aims to develop specialized skills that are highly in demand by most employers.
Coursework for this BA in Geography program provides learners with an overview of the discipline, emphasizing human geography and preparing them for further educational pursuits, like a master's degree in business, climatology, environmental science, law, and public health.
Additionally, this will provide them with career-ready skills in aerial photo interpretation, remote sensing, geographic information systems (GIS), modeling, database handling, computer-based cartography, and spatial analysis, which are in demand in map production, regional planning, and environmental assessments.
---
Florida International University
Florida International University's Bachelor of Arts in Geography program emphasizes helping undergraduates have a deeper understanding of humanity's relations with Earth. It explains how people organize the world spatially, from households to countries to the rest of the world.
This program answers questions about how people give meaning to places and create territories. Aside from that, it addresses the reciprocal interactions between nature and humans, as well as how nature affects human societies and human's role in transforming the world.
With the help of this Geography degree, students will be able to explain and address some of the most urgent social and environmental issues. It also introduces them to geographic tools for social science inquiry, including remote sensing, interactive mapping, and computer-based geographic information systems (GIS). This helps them prepare for high-paying jobs in technology, public health, real estate, education, disaster response, city and regional planning, environmental management, and community development.
Some of the required courses for FIU's BA in Geography include:
Gaining Global Perspectives
Geography of Global Change
Applications of Geographic Information Systems
Political Geography
World Ethnographies
---
Old Dominion University
Old Dominion University's Bachelor of Science in Geography can be a degree completion program designed for students who have earned some college credits or have completed at least 30 credits online from this university. It can also be a full degree that requires students to complete 120 credit hours.
Through this BS in Geography program, learners will develop a broad knowledge base in geography and a deeper understanding of human-environment interrelationships. It offers three areas of concentration: Environment and Resources, Geographic Information Systems (GIS), and Urban Planning and Emergency/Hazards Management.
ODU is a pioneer in determining how rising sea levels caused by climate change impact the world. This university is a center of geospatial technologies in the region and is home to the Center for Geospatial Science, Education & Analytics. On top of that, it is a partner in the Commonwealth Center for Recurrent Flooding Resiliency, responsible for investigating flooding data, developing best resiliency practices on local and national levels, and examining the effects of recurrent flooding.
Some of the courses Geography majors must enroll in include:
Marine and Coastal Geography
Geographic Information Systems (GIS)
GIS Programming
Natural Resources
Spatial Analysis
---
University of Arizona
The online degree in Bachelor of Science in Geographic Information Systems Technology offered by The University of Arizona provides undergraduates with the essential tools to map their career paths, especially now that Geographic Information Systems (GIS) is becoming increasingly in demand in every industry.
This university is one of the top 10 geography schools in the country, and this program stands out from the rest because its courses are taught by expert faculty members committed to balancing GIS technology fundamentals with major growth areas. This gives learners the practical experience necessary to enter the workforce by providing them with cutting-edge coursework in open-source programming, web and mobile applications, cartography, and geo-visualization.
The University of Arizona's BS in Geographic Information Systems Technology program focuses on professional and applied GIS, which is crucial for those looking to land a well-paying job right after graduation. Students can build a clear path for their professional goals by completing project-based coursework and a senior capstone project.
Some of the core courses offered for this program in Geographic Information Systems Technology include:
Exploring Perspectives or Building Connections
Introduction to the General Education Experience
Political and Cultural Geography of Globalization
Applications of Geographic Information Systems
Cartographic Modeling for Natural Resources
---
Kennesaw State University
Kennesaw State University's online Bachelor of Arts in Geography degree teaches learners about studying the human and physical landscapes of Earth's surface. It provides them with knowledge of climate, culture, language, vegetation, landforms, cities, and transportation, which are studied using the unique spatial perspectives of geography.
At KSU, BA in Geography majors chooses several courses in related studies, showcasing the interdisciplinary nature of this field and allowing students to customize their degrees to their personal and professional goals. Students can choose related studies courses in the arts, humanities and social sciences, business, physical sciences, and other disciplines. Through this program, undergraduates can prepare for rewarding careers in education, business, non-profit organizations, research, or government.
This Geography degree program requires students to complete 123 credit hours or four years of full-time enrollment. This program has also been recently ranked in the nation's top 5 online degree programs in Geography.
These are some of the major requirements for KSU's BA in Geography degree program:
Introduction to Human Geography
World Regional Geography
Earth from Above
Urban Geography
Global Climate Change
---
Pennsylvania State University
At The Pennsylvania State University, students interested in studying geography and its environmental and technical perspectives should enroll in its Bachelor of Science in Geography. This major is a disciplinary-focused program that focuses on developing students' technical skills and preparing them across geography's human spectrum.
This online degree program provides students with rigorous training on using geographic technologies and tools. It also features core and advanced courses on how people use environmental resources and place themselves and their economic, political, and social activities on Earth.
With PSU's BS in Geography degree, students can customize their degrees and specialize in specific areas of interest by completing undergraduate certificates. This prepares them for successful careers in business, government, and industry, as well as in private firms and state, federal, and local administrative and planning agencies.
Students enrolled in PSU's Geography degree program must pass these courses:
Geographic Perspectives on Environmental Systems Science
Geographic Perspectives on Environment, Society and Sustainability
Spatial Analysis
Geographic Information Systems
Introduction to GIS Programming
---
Check this out: Best Online BS in History
---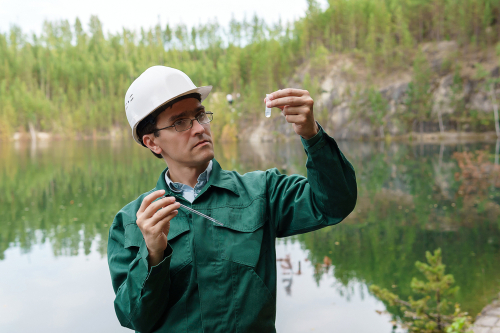 Frequently Asked Questions
What kind of jobs can a graduate with a Geography degree online expect?
Some of the most popular career opportunities for those with a Bachelor of Arts or Bachelor of Science in Geography can apply for include:
How long does completing a bachelor's degree in Geography usually take?
Most full-time students complete a Bachelor's in Geography degree in four years. This is typically equivalent to at least 120 total credit hours.
What qualifications do a graduate with a Geography need to become a geographer?
Candidates must have at least a bachelor's degree in Geography for an entry-level geographer position. For other roles, applicants may be required to have a master's or doctorate, depending on the employer and industry.
Key Points to Ponder
Studying geography helps learners explore and understand places and spaces, acknowledging the differences in global cultures, economies, landscapes, environments, and political systems.
An Geography online bachelor program teaches undergraduates about Geographic Information Systems (GIS), Human and Regional Geography, Climatology, Environmental Geography, and Geographic Techniques.
An online Bachelor's in Geography prepares students for crucial roles in businesses and industries that employ graduates with Social Sciences degrees. By pursuing graduate school, they qualify for higher positions.
---
Take a look at this before you go: Best Schools with Online Bachelor's in Environmental Science