Find Your Perfect School
Premium Schools is an advertising-supported site. Featured or trusted partner programs and all school search, finder, or match results are for schools that compensate us. This compensation does not influence our school rankings, resource guides, or other editorially-independent information published on this site.
Hospitality Management is a very comprehensive field that involves managing the daily commercial, administrative, and operational activities of businesses in the hospitality industry.
More Info: Best Online Bachelor's in Business and Management with a Concentration in Management
---
Unlike the narrowly focused field of hotel management, Hospitality Management is the umbrella term used in covering different industries like travel and accommodation, food and beverage management, and even management. Under the helm of hospitality, managers include housekeeping, spa services, maintenance, reception, concierge, and many more.
The tasks hospitality managers handle differ based on the setting in which they're employed. These include the following:
Budgeting and Accounting
Interviewing, assessing, training, and managing staff
Assisting with day-to-day operations
Optimizing the performance of the business
Dealing with customer inquiries and complaints
Ensuring safety and health compliance
Quick Summarization
A degree in Hospitality Management provides extensive insights into the function and structure of organizations and companies. Students in hospitality management degree programs are taught various management skills, like teamwork, leadership, delegation, analysis, IT, critical thinking, and problem-solving. Take a look at these top hospitality management schools today!
Quick audio summary:
Methodology
We put together excellent Hospitality Management schools and programs that produce graduates who stand out in their respective career fields, including in the areas of hospitality, travel, and tourism. To cut, each program:
Provides a 100% online distance learning format to allow students better class schedule convenience and flexibility, offering hospitality management courses according to travel and tourism and beyond,
Equips students with the necessary skills they need to thrive in Hospitality Management settings and industries, such as restaurant and beverage management, hotels, cruise ships, casinos, event management, and other branches of tourism,
Features well-trained and experienced academic professors and respected professionals in the Hospitality field,
May offer accelerated degrees and transfer credit options in hospitality management,
Highlights affordability through financial aid options offered to students,
Obtained approval from academic or accrediting bodies such as the Southern Association of Colleges and Schools Commission, the New England Commission on Higher Education, the Northwest Commission on Colleges and Universities, and the Higher Learning Commission, demonstrating academic standards compliance.
For more information on our program evaluation and ranking criteria, please read our Methodology.
14 Best Online Hospitality Management Programs
The University of Alabama
Location: Tuscaloosa, Alabama
The University of Alabama is a public research university that offers programs of study in 13 academic fields leading to bachelor's, master's, education specialist, and doctoral degrees. Known as the oldest and biggest of the public universities in Alabama and the University of Alabama System, the school is dedicated to excellence in teaching, service, and research.
The school offers different online programs through Bama by Distance, including the Online Bachelor of Science in Hospitality Management. This hospitality management curriculum covers training and curriculum relevant to a student's choice of concentration:
lodging management/hotel management
restaurant management
food and beverage management
meetings and event management
club management
Students have to complete 120 credits to graduate and must complete 500 hours of internships with an approved hospitality organization.
This online hospitality degree program will give students the knowledge to describe the responsibilities and roles of hospitality professionals, including food service management, lodging, and more.
Students can describe and use sound financial management principles through this hotel and restaurant management degree.
Ethical and legal considerations are included in the course, as are organizational management and human resources practices.
The University of Alabama is SACSCOC-accredited.
---
The University of Massachusetts-Amherst
Location: Amherst, Massachusetts
The University of Massachusetts-Amherst is a public research university that is the sole public land-grant institution in the Commonwealth of Massachusetts. The school has 110 undergraduate majors, and 127 graduate programs offered both on campus and online. Through its online education (University Without Walls), students are allowed to personalize their learning.
One of its completely online programs is the BS in Hospitality and Tourism Management.
Online students are taught all the operational and technical skills for hospitality and tourism.
This bachelor's degree will provide students the knowledge on how they can practice their role of marketing in giving goods and services within the hospitality field.
Effective financial management practices among hospitality organizations are taught in this program.
This hospitality and tourism management major is 120 credits hours and is offered 100% online. Students are expected to complete a practicum or internship in one of the approved hospitality organizations around the globe.
With this hospitality management major, students are prepared to have successful careers in hotels, restaurants, convention centers, resorts, and many more.
This online hospitality management program is taught and handled by the same faculty, and the degree is similar to the on-campus program.
The University of Massachusetts-Amherst is accredited by NECHE
---
Florida International University
Location: Miami, Florida
Florida International University is Florida's third-largest university and the eighth-largest public institution in the US by enrollment. It offers 191 academic programs, 60 baccalaureate programs, 81 master's programs, 34 doctoral programs, three specialist programs, and four professional programs in 23 schools and colleges.
FIU offers several undergraduate degree programs, including the online Bachelor of Science in hospitality management.
This hospitality business management program will prepare online students to lead and excel in the hospitality industry– the world's biggest industry.
This bachelor's in hospitality management is part of FIU's Chaplin School of Hospitality & Tourism Management,
This online program allows students to gain fast-track career advantages in food service, tourism, and the international hotel industry.
FIu's bachelor's in hospitality management degree is fully online and provides students with the best foundation in financial management, business administration, accounting, logistics, and operations management.
This is a 120-credit hospitality management program that costs $228.81 and $345.87 per credit hour for in-state and out-of-state enrollment, respectively.
Specializations in this online program include:
Beverage Management
Hotel Management/Lodging Management
Culinary Arts
Restaurant Management
Event Management
Travel and Tourism Management
FIU also offers an accelerated combined BS/MS program. This allows students to complete their master's degree in a shorter time and is designed to be a continuous program.
Florida International University is approved by the SACSCOC.
---
Johnson and Wales University-Online
Locations: Providence, Rhode Island and Charlotte, North Carolina
Located in Providence, Rhode Island, Johnson and Wales University runs an online platform designed for non-traditional students. Initially, JWU was a business school and provided expertise in various management programs.
Since 2010, JWU has offered online programs, including the online BS in Hospitality Management. This is a 100% online program that takes four years to complete.
For years, JWU has been recognized as one of the most respected and reputable schools in the world.
The bachelor's degree online program is designed for current hospitality professionals.
The course takes an intensive look at the hospitality field while teaching students the right management skills they need to further their careers in food and beverage, lodging, event planning, and tourism.
JWU has built a wide network of industry connections spanning the globe. Hospitality companies like Compass Group, Marriott, and Darden, are just some of the big companies looking for JWU graduates.
Hospitality core courses included in this online program include:
Negotiations
Revenue Management
Financial Analysis
This program is only for present hospitality professionals, meaning students must have at least two years of full-time experience in the hospitality industry.
Johnson and Wales University-Online is NECHE-approved.
---
University of Utah
Location: Salt Lake City, Utah
The University of Utah offers 111 distinct undergraduate degrees consisting of 89 majors within 25 fields of study.
The school offers online programs, including the online Bachelor of Science in Parks, Recreation, and Tourism in Sustainable and Hospitality Management.
This online bachelor's degree has a 122-credit hour rule. Plus, it also has a 67-credit hour program requirement, including a senior internship.
This online hospitality and tourism program can be completed in four semesters. The usual course load is between 12 and 15 credits, and the internship is completed during the summer term.
Students are given different interactive learning formations like discussion forums, group assignments, or peer reviews and interactions.
This Sustainable Tourism and Hospitality Management program is designed to prepare students with the operational expertise, theoretical knowledge, and technical skills they need to succeed in the hospitality and tourism industry.
Students in this online program will delve deeper into the ethical and cultural implications of tourism, biodiversity, tourism policy, cultural heritage conservation, visitor management, destination marketing, event management, customer service, tourism economics, and sustainability.
The University of Utah is NWCCU-accredited.
---
Washington State University
Location: There are several locations across Washington State and one in Portland Oregon
Washington State University is a public land-grant university with its flagship campus in Pullman, Washington. It operates five campuses and an online format, the WSU Global Campus.
WSU offers 95 undergraduate majors, 86 minors, and more than 100 in-major specializations. The programs are ranked as the best internationally and nationally in the field of computer science, engineering, business, hospitality, and more.
One of WSU's most notable programs is the Bachelor of Arts in Hospitality Business Management program under the Carson College of Business.
WSU offers the program entirely online, with acclaimed WSU faculty members giving the best and most extensive hands-on industry experience to the curriculum.
Hospitality management students will learn the fundamentals needed to advance in the fast-growing hospitality industry.
Students must complete 120-semester credits, including a 6-credit International Experience course.
International Experience courses can be completed thru international internships, studying abroad, or completing assigned coursework.
Students need to complete at least 1,000 hours of paid work. This will not only increase their readiness in the hospitality sector but also boost their professional profile and draw new career connections.
In this hospitality management degree, students can join the Carson Career Amplifier Program, a co-curricular program for those who wish to experience more hands-on learning experience. There is also a chance to study at the César Ritz Colleges in Switzerland.
This course is also offered in a 7-week, accelerated format. However, these courses are only available once per academic year. Summer courses are also required to complete the program. Note that the accelerated courses are very demanding, with students required to put in 15-20 hours of study time every week.
WSU is accredited by the NWCCU.
---
University of Missouri-Columbia
Location: Columbia, Missouri
The University of Missouri-Columbia is a public land-grant research university in Columbia, Missouri, and the state's largest university. It is also the flagship of the four-campus University of Missouri System. The school offers more than 300-degree programs in thirteen major academic divisions. In 2011, it opened its center for distance learning called Mizzou Online.
Mizzou Online has more than 125 degree and certificate programs for students anywhere in the globe. Its bachelor's in hospitality leadership is offered 100% online.
This program is suited for those who already hold an associate degree in hospitality management or culinary arts.
This online hospitality degree covers the fundamental subjects of HR Management, Hospitality Law, Professional Development, and Sales and Marketing.
Students can specialize in food and beverage management, conference and special events management, sports venue management, or lodging management.
This hospitality program is accredited by the Accreditation Commission for Programs in Hospitality Administration (ACPHA).
Sampling of Coursework:
Hospitality Human Resources Management
Special Events Management
Strategic Management in the Hospitality Industry
The University of Missour-Columbia is HLC-approved.
---
Northern Arizona University
Location: Flagstaff, Arizona
Northern Arizona University is divided into seven academic colleges that offer 130 undergraduate degrees, 100 graduate programs, and various academic certifications. Students can join classes or conduct research on campus, online, and at more than 20 statewide locations, including the Phoenix Biomedical Campus.
NUA offers a Bachelor's of Science in Hotel and Restaurant Management offered 100% online. Students in this program will gain relevant learning experience through an internship curriculum and significant hospitality coursework.
Students are required to have two foreign language classes together with five courses in hospitality, plus open elective courses to complete the 120-credit requirement.
A hospitality certificate may be earned based on a student's chosen elective. This will help them carve a career out of a particular area of study like hospitality accounting, event management, hotel management, risk management, and more.
Hospitality management students can choose from two formats of online learning:

Traditional Online Learning Format: Students will follow a semester-based course schedule, which is why they need to meet deadlines for assignments. The cost of attendance in this type of online format is based on credit hours.
Competency-Based Learning Format: Students can choose their start date, set their schedule, and study at their own pace. Competency is based on objective tools. As with the cost, students will pay a six-month flat subscription rate.

All online hospitality management students will get the same student support services as their on-campus contemporaries, along with full library access, academic advising, 24/7 tech support, and free online tutoring.
Northern Arizona University is HLC-recognized.
---
Fort Hays State University
Location: Hays, Kansas
Fort Hays State University runs over 200 certificate and degree programs founded on the best online learning experiences and substantial student support resources; students will have the best options as they reach their educational and career goals.
Fort Hays University offers an online Bachelor of Science in Tourism and Hospitality Management for students who wish to have a transformative experience through intensive hands-on training with partner distinguished employers and companies.
This degree in hospitality management is 120 credits: 55 credit hours of general education courses, 24 credit hours of business core courses, and 23 credit hours of concentration courses in hospitality and tourism management.
Like most hospitality management degrees, this program also has 12 credit hours of required electives and six credit hours of free electives that students can tailor according to their career goals.
Four elective courses include Foundations of Wine, Meetings, Casino Management, and Conventions and Events Management.
Sampling for Coursework for FHSU's Online BS in Tourism and Hospitality Management Program:
Principles and Practices in Tourism & Hospitality Management
International Hospitality: Problems and Planning
Health and Wellness Tourism
Social Media Marketing
Fort Hays University is recognized by the HLC.
---
Eastern New Mexico University
Location: Portales, New Mexico
Eastern New Mexico University, with its main campus located in Portales, New Mexico, is a public university that offers more than 90-degree programs. It has two associate degree-granting branches in Roswell and Ruidoso and is New Mexico's largest regional comprehensive university. This school is a federally designated Hispanic-serving institution and is also a member of the Hispanic Association of Colleges and Universities.
Those who are looking for affordable hospitality management degrees can take advantage of ENMU's online Bachelor of business administration in Hospitality Management program.
Students in this online hospitality degree have to complete 120 credits to graduate.
The program includes courses in the business core, business administration, business foundation, business international, business emphasis area, and a few elective ones.
Quality education is crucial at ENMU; thus, the program curriculum includes students having internships in ServSafe where they prepare for alcohol and food safety certification exams.
Students use Canvas, Mediasite, and Collaborate to access recorded lectures and learning materials and comply with other academics-related activities. They can use these platforms on their own time or during live classes, as well as for student-to-teacher and peer-to-peer interactions.
The program offers academic advising, flexible and free online tutoring, and writing assistance services.
Eastern New Mexico University is HLC-accredited.
---
University of Wisconsin-Stout
Location: Menomonie, Wisconsin
The University of Wisconsin-Stout is a public university that offers 49 undergraduate majors and 22 graduate majors, including two advanced graduate majors and one doctorate.
The University of Wisconsin-Stout offers innovative and high-quality online programs, including the online Bachelor of Science in Hotel, Restaurant, and Tourism Management. This program provides students to succeed in different hospitality management settings, including:
Hotel and Resort Operations
Vacation and Tourism Promotions
Culinary Arts and Restaurant Careers
Event and Conference Planning
International Hospitality Guest Services
Hospitality Law, Liability, and Risk Management and Assessment
Product Development
You can find the oldest hotel, restaurant, and tourism management programs at the University of Wisconsin-Stout. Its curriculum focuses on organizational development management, financial management, and operations management.
Because of the intensive training in the fundamental aspects of running a hotel, restaurant, and tourism business, students will learn the following:
how to effectively analyze current trends, issues, and practices;
how to apply finance and business management principles in achieving the operational objectives of an organization;
to understand the effective development of strategies for business growth, including guest retention.
Courses are delivered through Customized Instruction specifically designed for working professionals and adult learners.
The University of Wisconsin-Stout has earned the approval of the HLC.
---
California State University-East Bay
Location: Hayward, California
California State University-East Bay is a public university that is part of the California State University system. It offers 48 undergraduate degree programs and 34 post-baccalaureate degree programs on top of its teaching credential program. At present, there are more than 15,000 students on its campuses in Hayward, Concord, Oakland, and online.
For those who wish to join the hospitality and tourism industry, Cal State East Bay offers an online bachelor's degree program in hospitality and tourism.
Tourism management students at Cal State East Bay must complete 120 units: 60 units for the major requirements and 57 units for general education requirements.
This hospitality administration program allows students to choose a concentration, plus the option of selecting their preferred elective courses based on their personal interests and career goals.
Enrolling in this online hotel and restaurant management program will open graduates to numerous professional competencies that enable them to land entry-level jobs. Some of the skill sets they will gain include identifying effective strategies in management and leadership, explaining sustainable solutions, or contributing to the advancement of the hospitality industry.
California State University- East Bay has been approved by the WASC-Senior College and University Commission.
---
Missouri State University- Springfield
Location: Springfield, Missouri
Missouri State University-Springfield (MO State or MSU) formerly called Southwest Missouri State University, this public university is the state's second-largest university by enrollment. It also has a campus in West Plains, Missouri, that offers associate degree programs. For students who wish to maximize their money and time, MO also offers programs through their distance education format.
Those who finished an associate degree in culinary arts or hospitality management can enroll for the online BS or BAS in Hospitality Leadership. Sample coursework of the program includes:
Human Resource Management
Introduction to Hospitality Management
Hospitality Change Management and Leadership
Hospitality Facilities Management
Hospitality Industry Revenue Management
This program is delivered 100% online and is handled by industry experts. Missouri State University is an HLC-accredited school.
---
Utah Valley University
Location: Orem, Utah
Utah Valley University offers master's, bachelor's, and associate degree programs and certificates. Originally called Utah Valley State College, the school is the largest university in the state in terms of enrollment.
Through the Woodbury School of Business, Utah Valley University offers an online degree in hospitality management where students can personalize their education with creative or business specializations. Specializations include:
Event Planning
Culinary Arts
Operations Management
Sales
Revenue Management
This hospitality management program is designed to provide students with a solid foundation of management skills that they can use for a wide range of careers in the event planning and hospitality industry. The school also offers individualized career and academic counseling, practical experience internships, course tutoring, and post-graduation job placement.
Utah Valley University is accredited by the NWCCU.
---
Additional information to consider: Best Online Bachelor's in Business and Management with a Concentration in Entertainment Management
---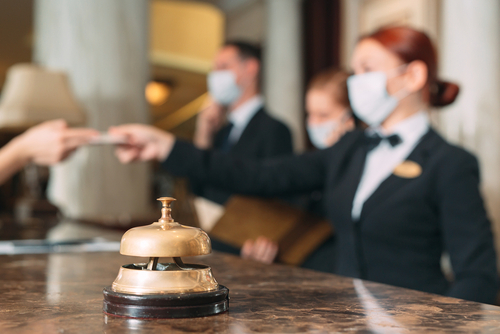 Careers in the Hospitality Industry
When you complete a bachelor's in hospitality management degree, you will have the knowledge and skills needed to build a successful and lucrative career. Career opportunities in the hospitality industry are endless. It is one of the most diverse and largest sectors in the world.
Here are some of the best careers you can get as a hospitality management degree holder.
Lodging Managers
These are the managers that oversee the economic status and operations of the motel, hotel, or any lodging facility. They oversee staff performance and make sure that their guests are provided with the best experience possible. Training staff, managing the budget, allocating funds to the facility departments, and setting room rates, are just some of the tasks of lodging managers.
Food Service Managers
Food service managers run and maintain a food establishment. Their primary goal is to guarantee that the customers/guests have the most pleasant dining experience. These managers also hire, fire, and train employees, manage the budget and payroll, order supplies, equipment and food, and many more.
Meeting, Convention, and Event Planners
Event management is one of the toughest fields in hospitality management. They are the ones responsible for the design and structure of major events like weddings, business meetings, and conferences. They choose the location, negotiate contracts, determine and assess the budget, and meet with clients.
Sales Managers
A hospitality management degree holder can also work as a sales manager. Most sales managers handle product and service distributions, train and manage sales representatives/agents, assign sales areas, and develop sales training programs.
Gaming Managers
Gaming managers oversee gaming dealers and gaming tables. They coordinate game operations and come up with house rules in the casino. These managers are also the ones responsible for hiring and training casino staff and workers, going over operational expenses, and assisting high-profile customers.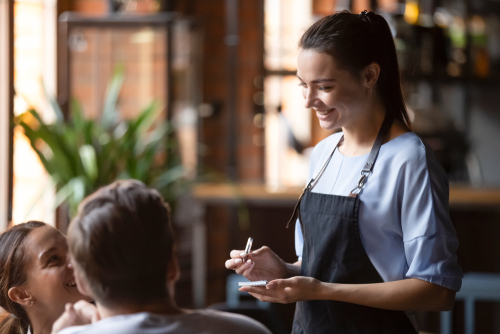 Frequently Asked Questions
Key Points to Ponder
Earning a degree in hospitality management can lead to diverse career options.
The hospitality management bachelor program prepares students for entry-level positions in the field.
Hospitality management focuses on all the necessary skills required to work at restaurants, conference centers, and in hotel and resort management.
Hospitality management degrees combine knowledge in business administration and management knowledge with hygiene, hospitality marketing, food science, hospitality financial management, safety, and more.
A hotel management degree can provide an interesting career in the field of travel and tourism, offering the opportunity to meet new and exciting people.
Earning an online hospitality management degree provides convenience and flexibility for those working full-time jobs.
---
Take a look: Best Online Bachelor's in Business Management with a Concentration in Marketing