Find Your Perfect School
Premium Schools is an advertising-supported site. Featured or trusted partner programs and all school search, finder, or match results are for schools that compensate us. This compensation does not influence our school rankings, resource guides, or other editorially-independent information published on this site.
Business Management, now offered as an online degree, equips students with the challenges of the modern business landscape. It is a popular degree program that combines online coursework, virtual lectures, and interactive assignments for students seeking career paths in finance, marketing, or operations.
Additional Information: Best Schools with Online Bachelor's in Management
---
Logistics, as a Business Management concentration, deals with the procurement, transportation, storage, or distribution of resources. Students are exposed to the basics of efficient planning, strategic supply chain management, and coordinated flow of such resources. Hence, they reach from one point of distribution to another, often from production to consumption.
Quick Summarization
Business Management is a broad field of study. By focusing on Logistics, students learn about product life cycles, storage and transportation methods, supplier relationships, and know-how of global Supply Chain Management. Pursuing a career in Logistics isn't limited to a specific sector because practically all business types hold a Logistics department. That said, it matters that students select the best business school offering a Logistics concentration.
Quick audio summary:
Methodology
We put together excellent online Business Management programs with a Logistics concentration from the country's leading business schools—each of which is a standout with these academic features:
Delivered as an online or hybrid Business Management with a focus on Logistics program, featuring rigorous coursework that introduces students to the fundamentals of the discipline, including Economics, Organizational Behavior, Leadership, Project Management, Strategic Planning, Product Cycle, and Supply Chain Management,
Offers hands-on experience through projects, case studies, and internships that produce well-trained students ready for graduate school or the workforce,
Employs top-caliber instructors who hold terminal degrees in the field of Logistics and with considerable and relevant experience,
Offers scholarships, grants, and other forms of financial aid to qualified online Logistics students,
Obtained official accreditation from academic organizations that establish quality standards of instruction for distance learning programs, or as it relates to Logistics or Business Management programs,
Positively reviewed by Logistics majors and alumni.
Check out our Methodology page for our college and degree program selection process.
---
9 Best Online BS in Business Management with a Concentration in Logistics
Bellevue University
Location: Bellevue, Nebraska
Bellevue University's Bachelor of Science in Supply Chain, Transportation, and Logistics Management degree program prepares students for key roles in a global market. This is an accelerated online program that allows students to simplify their educational experience by offering a manageable course load designed especially for busy students.
Program outcomes include:
Manage complex systems, such as fiscal management, business communication, information system analysis and organizational problem-solving, warehousing, procurement, and transportation,
Determine the weaknesses and strengths of different transportation modes,
Thoroughly explain the impact of the fundamental concepts of logistics and supply chain management on a firm's structural capital,
Use core business concepts based on an accrediting agency's standards,
Apply information technology concepts and analytical models necessary for supply chain management in global environments,
Relate logistics and supply chain management to other business functions, such as information technology, operations, marketing, and finance.
Accredited by the HLC, MSU offers federal and state grants and loans to attend accredited programs. MSU also offers a generous credit transfer policy and credit for military training and experience.
---
Embry-Riddle Aeronautical University
Location: Florida, Georgia, Tennessee and Arizona
Students who earn their Bachelor of Science in Logistics & Supply Chain Management degree at Embry-Riddle Aeronautical University can be sure to develop their skills in the maintenance and transportation of material, personnel and equipment, and procurement.
Graduates of this degree are guaranteed the following program outcomes:
Knowledge of modeling approaches to be able to solve problems and make decisions effectively,
Understanding of technology, people, and process solutions for transportation operations and warehousing distribution,
Expertise in the use of inventory management methods to optimize the supply chain from end to end,
Knowhow in procurement and purchasing procedures and policies in different business settings,
Knowledge of analyzing and tracking supply chain performance.
This university, home to students from over 148 countries, offers the BS in Logistics & Supply Chain Management degree on campus, online, or through virtual web conferencing.
---
Georgia Military College
Location: Several locations throughout Georgia
Georgia Military College's Bachelor of Applied Science in Supply Chain Management & Logistics online degree program allows students who have earned their Associate of Applied Science degree to continue their education and advance in their careers.
Graduates of this degree are guaranteed the following program outcomes:
Support the financial objectives and strategic initiatives involved within every business operation by incorporating logistics and supply chain management performance goals,
Apply problem-solving, decision-making, and critical thinking skills to handle business problems related to logistics and supply chain management,
Gain fundamental logistics and supply chain management skills in materials management, inventory management, distribution, transportation, purchasing, and warehouse management suitable for today's work environment.
Georgia Military College is recognized for offering top-quality undergraduate education at affordable rates. GMU also offers financial aid, including grants, scholarships, loans, and work-study jobs, to qualified students.
---
Western Governors University
Location: Millcreek, Utah
The Bachelor of Science in Supply Chain & Operations Management online degree program offered by Western Governors University is designed to provide learners with a holistic view of the logistics and supply chain management industry today.
With courses that are developed with input from industry experts, the BS Supply Chain & Operations Management curriculum is aligned with the certification requirements of the Lean Six Sigma lower-belt certification and the Association for Supply Chain Management certification.
Students can expect these program outcomes:
Gain sought-after skills, such as data visualization, business analytics, quality assurance, data analysis, project management, budgeting and trend analysis, and storytelling through data,
Be equipped to manage projects using various project-management methods within any organizational structure, from start to finish,
Be able to assess logistics and the management and planning of distribution and transportation,
Explore inventory and logistics management, warehousing and warehouse management, and supply chain management.
WGU is accredited by the ACBSP.
---
Arizona State University
Location: Tempe, Arizona
Arizona State University's Online Bachelor of Arts in Business – Global Logistics Management degree program will provide graduates with the necessary problem-solving skills to lead business operations in shipping and distribution. Graduates will also be able to advance along with the growth in international trade.
ASU's online Global Logistics Management degree concentration is taught by Nobel laureates, members of the National Academy of Sciences, renowned journal publications, and national conference speakers.
Graduates of this program are guaranteed the following outcomes:
Develop skills in analysis, communication, strategic thinking, and leadership, allowing students to create solutions for new and existing challenges within the logistics and supply chain management environment,
Learn about the impact of business performance metrics, processes, and modern supply chain tools.
Applicants who do not meet ASU's admission requirements can still apply through their Earned Admission, which requires students to complete online courses with a minimum GPA of 2.75.
ASU is AACSB-accredited, delivering excellent quality education.
---
Sullivan University
Locations: Louisville, Lexington and Fort Knox, Kentucky
Sullivan University's BS in Business Administration – Logistics and Supply Chain Management provides learners with solid business knowledge emphasizing logistical business operations.
Students learn:
Well-rounded knowledge of business operations, including business law and ethics, accounting, financial management, economics, conflict management, negotiation, and information systems,
Deep understanding of various areas of supply chain management, including warehousing, order processing, inventory control, transportation, and manufacturing,
Solid foundation in warehouse management, procurement practices, logistics and systems support, and inventory planning.
This Logistics and Supply Chain Management undergraduate program concentration focuses on engagement between students and faculty. The program is equivalent to 180 total credit hours.
Students choose four additional General Education classes from these categories: Natural Sciences/Mathematics, Social/Behavioral Sciences, and Humanities/Fine Arts.
---
Florida International University
Location: Miami, Florida
Florida International University's Online Bachelor of Business Administration – Logistics & Supply Chain Management focuses on specialized knowledge and critical skills, focusing on goods transport, inventory, and customer experience.
This program is equivalent to 120 total credit hours, featuring:
Pre-Core courses: Accounting for Planning and Control, Principles of Macroeconomics, Statistics for Business and Economics, and Calculus for Business,
Business Core courses: Legal Environment of Business, Organization and Management, Introduction to Marketing, Applied Business Statistics, and Operations Management,
Business Professional Development courses: Career Management, Advanced Communication for Business, and Speech and Writing for Business Communication,
Major courses: Export Marketing, Marketing Channels, Principles of Transportation, Logistics Technology, Principles of Logistics, and Global Logistics.
The Online Bachelor of Business Administration in Logistics and Supply Chain Management program is taught by top faculty members with years of professional experience and doctorate degrees. Students should complete 60 credit hours of lower-division coursework and 60 credit hours of upper-division coursework.
FIU pairs every online undergraduate student with a success coach.
---
Ball State University
Location: Muncie, Indiana
The online Bachelor's in Logistics & Supply Chain Management at Ball State University sets students up for success, opening doors to in-demand jobs that pay over $100,000 annually.
Graduates of this Logistics degree focus are guaranteed the following outcomes:
Solid foundation in logistics, technology, management, and science through interdisciplinary instructions and real-world projects,
Opportunities for an internship at the current workplace or other private or governmental organizations that fit students' professional schedule, location, and aspirations,
Gain real-world experience by working with a top company for a crucial supply chain project, developing viable alternatives.
AACSB-accredited BSU accepts transfer credits based on the student's current cumulative GPA.
---
University of Nebraska
Location: Lincoln, Nebraska
The BS in Business Administration – Concentration in Logistics and Supply Chain Management offered by the University of Nebraska is aimed at preparing students on supply chain management in organizations. It is equivalent to 120 total credit hours.
Graduates of this degree are guaranteed the following program outcomes:
Focus on different supply chain management areas, including logistics, procurement, effective resource management, and the three pillars of sustainable supply chains (people, planet, and profit),
Advanced research on leadership and management practice of supply chain management,
Innovative ideas to solve management problems in a hands-on learning environment,
Develop skills in leading and building organizations to help start-ups and Fortune 500 firms succeed.
Did You Know?
The University of Nebraska is one of the universities in the country to offer some of the lowest tuition rates, especially for its online programs.
---
An additional resource: Best Schools with Online Bachelor's in International Business
---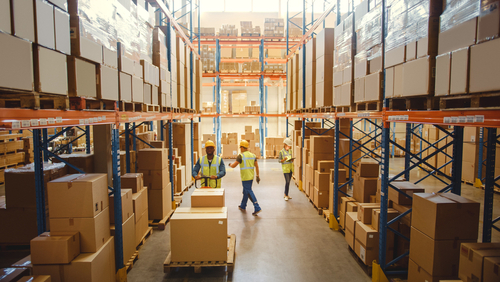 What the Future Holds for Online BS Logistics Graduates
As a graduate of a Bachelor of Science in Business Management, you have a wide range of career opportunities to explore.
High demand for Business Management graduates
The demand for business management graduates is expected to remain high as organizations continue to grow and compete in the global marketplace. Official statistics show the employment of management occupations is projected to grow by 8% from 2021 to 2031.
Diverse career options
With a degree in Business Management/Logistics, students pursue various career paths, including:
Business development manager
Operations manager
Marketing manager
Human resources manager
Financial analyst
Management consultant
Entrepreneur
Good pay
Payscale reveals that the average salary for a Business Management graduate is $65,799 per year. However, the salary range can vary depending on the industry, company size, and location. Here are some estimated salaries for different professions in business management:
Sought-after skills
As a business management graduate, you possess skills that are highly sought after in various industries, including:
Leadership and team management
Strategic thinking and problem-solving
Communication and interpersonal skills
Financial analysis and management
Marketing and sales strategies
Data analysis and decision making
Risk assessment and management
Multiple opportunities for growth
With your business management degree, you can continue your education to obtain an MBA or pursue certifications in various areas, such as project management and human resources. Additionally, gaining experience in various industries and roles can lead to career advancement opportunities.
Professional Organizations for Logistics Professionals
It's important for students who want to pursue a degree in Logistics and SCM to get their education from a reputable school with accreditations from respectable agencies that set the quality standards for educational institutions or degree programs.
The Council for Higher Education Accreditation-recognized IACBE ensures that academic excellence in business education is assessed in terms of academic business units and educational outcomes. It also provides support and guidance to help educational institutions level up their business programs.
AACSB is the world's biggest business school network that ensures the advancement of business education and making a positive and lasting impact on the world.
CSCMP advances the supply chain professions by educating, developing, and connecting all supply chain management professionals to collaborate, improve, and support their career developments. This council spreads awareness on the importance of global supply chains to businesses and economies around the world.
ASCM is the global leader and largest nonprofit association in supply chain organizational transformation, leadership, and innovation. It is one of the biggest influencers of innovation in the industry, focusing on helping businesses optimize their supply chains further.
ACBSP recognizes teaching excellence, which indicates students' learning outcomes. It promotes student-centered learning and teaching.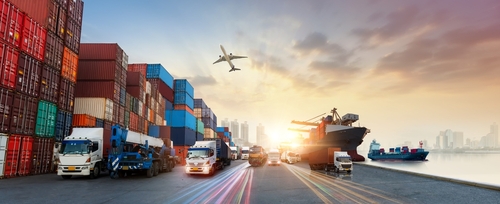 Frequently Asked Questions
What are the common courses in BS Logistics?
Typically, students must complete their online or on-campus Logistics coursework consisting of:
Operations Management
Management Information Systems
Business Law Fundamentals
Principles of Economics
Principles of Financial Management
Principles of Accounting
Sustainable Supply Chain Management
Industrial Purchasing and Logistics Management
Global Sourcing and Innovation
Business Logistics System Analysis
Supply Chain Management Financial, Economics, Capital, Cash and Legal Considerations
Management and International Organization
Fiscal Management for Supply Chain Management programs
Decision Making in a Global Environment
How do professionals advance their career in Supply Chain and Logistics?
Consider undergoing a certification training program from an accredited school. This offers theoretical and real-world experience, allowing logistics professionals to fully immerse themselves in the field. Aside from that, they will also have more experience in specialized roles, such as project management.
Aside from taking a certification program, graduates can also earn a master's or doctorate in a related field with a concentration in logistics and supply chain management. With a master's or doctorate, logistics professionals will be qualified for higher roles with higher salaries, such as purchasing director, supply chain manager, operations research analyst, and chief operating officer.
What skills are developed and enhanced through a Bachelor's in Logistics?
Closely related to Supply Chain Management degrees, Logistics undergraduate programs typically offer real-world experiences through internships and senior practicum, helping them develop the following competencies:
Technical skills such as data analysis, through which logistics managers read and analyze data, and identify useful trends and patterns. Graduates also gain and develop industry knowledge, allowing them to understand warehouse layouts to optimize workflows and logistics management functions. They will also be adept in project management. Allowing them to be more involved in risk management and the development of new logistics and supply chain strategies.
Soft skills teamwork, problem-solving, analysis, leadership, communication, and customer service skills crucial to dealing with different stakeholders, including clients and suppliers.
How much is an online Bachelor's in Logistics?
According to the US News & World Report, the per-credit tuition rate for an online bachelor's degree in logistics or supply chain management usually ranges from $300 to $500 or $36,000 to $64,000 in total tuition.
Key Points to Ponder
An online Bachelor's in Logistics educates students to understand the solutions for logistics and supply chain management operations, including procurement, storage, and distribution.
Most online Logistics programs require 120-180 total credit hours.
---
Please don't go before checking this out first: Best Online Bachelor's in Marketing