Find Your Perfect School
Premium Schools is an advertising-supported site. Featured or trusted partner programs and all school search, finder, or match results are for schools that compensate us. This compensation does not influence our school rankings, resource guides, or other editorially-independent information published on this site.
Network Security, a subset of cybersecurity, focuses on protecting computer networks from data breaches, unauthorized access, and malicious activities. It encompasses a wide range of technologies, strategies, and practices designed to safeguard the integrity, availability, and confidentiality of network resources.
Additional Resource: Best Schools with Online Bachelor's in Information Systems Security
---
Organizations rely heavily on computer networks to process, transmit, and store sensitive information. A single breach in the system can result in not only data loss but also damage an organization's reputation and cause substantial financial losses. Because of this, the importance of network security for identity and access management and the role that network security professionals play cannot be emphasized more.
Those who have a passion for technology and a fascination for safeguarding the integrity of networks should consider pursuing an online bachelor's degree in Network Security. In this program, students will develop a deeper understanding of the intricacies of cybersecurity protocols, network architecture, and the ever-changing landscape of digital threats.
Closely related to online Cybersecurity degree programs, an online Bachelor's in Network Security program will immerse students in a world of encryption, firewalls, intrusion detection systems, and ethical hacking, which will become their arsenal against the evil forces lurking in the deep crevices of cyberspace. This program will teach students about network infrastructure, cybersecurity principles, cryptography, intrusion detection and incident response, vulnerability assessment, and legal and ethical frameworks.
Quick Summarization
An online bachelor's degree in network security will hone students' knowledge and skills in defending networks against external threats and addressing vulnerabilities. Pursuing this degree will open doors to a multitude of exciting possibilities, as this program has prepared them for high-paying roles in any industry, from retail to government.
Methodology
Choosing to pursue a bachelor's degree in network security through online learning offers students convenience and flexibility, which is especially useful for working adults. However, it's imperative that students take the time to carefully weigh all their options and ensure that they choose the best school that offers such an online degree.
This article is aimed at providing interested individuals with a comprehensive and detailed list of all the crucial aspects that need to be considered when deciding on which school to enroll in.
Delivered 100% online or as a hybrid program enabling students to study on their own terms and achieve a balance between their education and personal and professional commitments,
Features curriculum and course offerings that cover essential topics, including cybersecurity fundamentals, network infrastructure, ethical hacking, risk management, cryptography, and incident response, for a solid foundation of the discipline and a strong defense strategy to tackle any network threats,
Offered through a robust virtual platform or Learning Management System to deliver synchronous or asynchronous learning,
Offers students a wealth of learning resources and technological support, including online libraries, interactive tutorials, virtual labs, and simulation tools for seamless educational journey,
Taught by seasoned a faculty with Network Security research qualifications, certifications, and other credentials so students learn from their valuable insights and real-world experience,
May features support services through academic advisors, technical assistance, online tutoring, and career advice,
Provides financial assistance, military benefits, and credit transfer opportunities to help make higher education more affordable for all students,
Obtained accreditation from academic organizations to ensure they meet the highest educational standards.
Please read our Methodology for a detailed look at our ranking process.
15 Best Online Bachelor's in Network Security
Western Governors University
Western Governors University offers a Bachelor of Science in Cybersecurity and Information Assurance to prepare students to outsmart hackers and cybercriminals who launch new malware, viruses, and scams that threaten people's data. WGU used valuable input from leading IT employers and cybersecurity experts to create the cybersecurity and information assurance degree program.
This Bachelor of Science degree in Network Security provides students with a solid background in IT security principles, including:
Hacking Countermeasures and Techniques
Secure Systems Analysis & Design
Data Management
Digital Forensics and Incident Response
Web and Cloud Security
Because this online degree program was designed by industry experts, students can be assured of the theoretical depth of the practical IT knowledge they gained. Students also get access to a program mentor every term to help them build personalized degree plans. Plus, courses are available anytime, anywhere for all students, ensuring that they'll be able to maintain a good balance of their time.
WGU assures students that the online BS Cybersecurity and Information Assurance program meets the latest Department of Homeland Security (DHS) and National Security Agency (NSA) guidelines. In fact, the university received a National Center of Academic Excellence in Cybersecurity (CAE-D) designation, a DHS and NSA-sponsored program that aims to advance and elevate skilled cybersecurity experts across different government agencies.
This means that WGU's online bachelor's degree in network security has received a stamp of approval for its cybersecurity programs, ensuring that students will receive top-notch education and training.
---
Regent University
The Bachelor of Science in Cybersecurity at Regent University combines students' passion for technology with their desire to protect and serve the community. This bachelor's degree program will prepare students to start or advance their careers in technology and network security in private, public, military, nonprofit, and government sectors.
The online degree in cybersecurity helps students sharpen their skills through practical hands-on training in Regent University's very own multimillion-dollar cyber range, which is accessible for both online and on-campus students. This cyber range is a cybersecurity training and simulation facility that teaches students everything they need to know to be able to face the real world after graduation.
This program is built on Christian values and principles. Plus, classes are taught and students are mentored by faculty members who hold the highest credentials in the field.
Regent University is one of the 4,000 institutions to have received a National Center of Academic Excellence in Cybersecurity (CAE-D) designation for this program. It is recognized as one of the best online bachelor's programs in Virginia for 10 years in a row.
At Regent University, students are guaranteed to pay $20,000 less than other private colleges or universities in the country. Because of this, this university has ranked among the top 5% of the most affordable private Christian institutions in 2018. Aside from that, it offers scholarships for on-campus students.
---
Kennesaw State University
What makes Kennesaw State University's Bachelor of Science in Cybersecurity unique is that it teaches students not only to be technologically capable cybersecurity professionals but also to be business-aware and capable of applying the technical knowledge and skills they gained to safeguard computerized information systems from various kinds of threats. Additionally, cybersecurity majors will learn how to effectively manage all the risks associated with modern IT usage.
This online bachelor's degree in cybersecurity will also address the increasing demand for cybersecurity in the state and all over the world. KSU's cybersecurity degree program leverages its current faculty capabilities in its related courses, such as BS Criminal Justice, BS Information Technology, and BBA Information Security and Assurance, which has a more managerial-focused curriculum. The BS Cybersecurity program, on the other hand, is technically focused and more security-related.
This program has an interdisciplinary nature, allowing students to develop advanced technical skills and a deeper understanding of the administrative, managerial, and business elements of cybersecurity. Including its certificate and minor, this program is offered fully online to give students the flexibility and convenience to take courses anytime and anywhere they want.
Kennesaw State University has a program called Double Owl Pathway, which allows students to obtain their undergraduate and graduate degrees at lower costs and in lesser time. Interested students must have a GPA of at least 3.25 a KSU undergraduate coursework. They must also complete at least 60 hours toward a bachelor's degree and 30 hours in residence.
---
Indiana Wesleyan University
With Indiana Wesleyan University's Online Bachelor of Science in Cybersecurity, students will be prepared to become an organization's top line of defense against cyber threats. This program features hands-on assignments, experienced instructors, and an innovative online lab environment to help students develop the necessary skills to defend computer systems from hackers.
Instructors will guide students in gaining the ethical perspective necessary to combat cyber threats. Students will be taught about hacking strategies, as well as evaluating the vulnerabilities of the cybersecurity framework. Aside from that, learners will be able to apply computer networking fundamentals to cybersecurity. Plus, they'll learn about the "bigger picture" of information technology and its influence on the different parts of an organization.
This online degree program in network security has 14 core courses, which will equip students with the right tools to conquer more challenging situations in the future. Some of the core courses include:
Ethical and Legal Business Concepts
Quality and Project Decision-Making for Managers
Business Statistics
Risk Management and Information Technology Security
Web Application Development
Networking, Systems, and Security
Securing Windows and Linux
Hacking Techniques and Countermeasures
Business Systems Analysis and Design Seminar
In addition to the bachelor's program in cybersecurity, Indiana Wesleyan University also offers a Cyber Analyst specialization to prepare students for certification exams, which can help them advance in their careers.
---
Purdue University Global
At Purdue University Global, individuals who are interested in network security can pursue an Online Bachelor of Science in Cybersecurity. This program will develop students' foundational knowledge of cybersecurity and network security to prepare them for industry certifications. Aside from that, students will gain additional hands-on experience through an internship toward the end of the program.
This cybersecurity program offers 10 concentrations that students can choose from:
CISSP Certification Preparation
Software Development Using #
Software Development Using Java
Software Development Using Python
Software Development Using Web Languages
Cloud Computing
Game Development
Programming and Analytics
Data Management
This program aims to develop a student's knowledge and skills in protecting organizations from various cyber threats. This is why this degree provides rigorous training to ensure mastery of cybersecurity fundamentals to ensure students will effectively and immediately identify IT security products and threats and recognize best practices.
Upon graduation, students will be able to analyze complex computing problems and apply appropriate principles and other disciplines to determine the best solutions. Students will also learn how to design, implement, and assess computing-based solutions to meet given requirements in the context of the degree's discipline. Additionally, they will be able to apply security practices and principles to maintain operations despite the threats and risks.
Students can complete this program in four years. However, Purdue University Global offers an accelerated bachelor's to master's program to allow students to shorten their paths to a graduate degree.
---
University of Illinois Springfield
The University of Illinois Springfield offers a Bachelor of Science in Information Systems Security designed to lay out a strong foundation in computer science for interested individuals. Students will also learn about information security fundamentals, including the design and implementation of security systems, computer security ethics, and security assessment.
Information systems security majors will develop the necessary skills to qualify for security-centric careers in network and computer administration, customer support, and system analysis, to name a few. All of this is made possible through hands-on learning activities using state-of-the-art labs and cutting-edge technologies. Plus, they will have access to top-of-the-line computing systems, such as a parallel processing cluster, hands-on network laboratory, and virtual server farm.
The university's Computer Science Department is a Cisco Regional Networking Academy, which serves as the instruction center for local high schools, community colleges, universities, and career centers in central Illinois. Because of this, this school received national recognition as a National Support Center for Systems Security and Information Assurance (CSSIA) partner.
All applicants for the Computer Science Department will be assessed for knowledge of computer science and communication skills. This is to give students the help they need in planning their education and journey to being computer scientists.
---
Dakota State University
Students who are passionate about keeping the cyber world secure should enroll in Dakota State University's BS in Network and Security Administration. Through this online degree, students will learn the necessary know-how and skills to help organizations keep networks up and running and maintain security at the same time.
This network and security administration program will also teach students about the basics of scripting, penetration testing, system administration, red-teaming, networking, and operating systems. DSU has virtual and physical labs where students can get hands-on experience. These facilities are guaranteed safe, giving students peace of mind while working on their enterprise-level hardware, such as firewalls, routers, switches, and VoIP phones. What's more, they'll be able to practice defensive network forensics and hacking safely.
Upon completion of this bachelor's degree, students will be able to apply relevant skillsets for system and enterprise network administration, investigate vulnerabilities in network security through penetration testing, and implement technical security controls to safeguard an organization's technological assets.
DSU students can join different organizations and clubs, like CybHER Security Institute, an organization that aims to educate, change, motivate, and empower women's perception of cybersecurity by providing them with resources. It also has the Digital Exploration for Enhanced Network Defense (DEFEND) Lab, IT Living Lab, and the Cyber Education and Professional Development Lab.
---
Franklin University
Franklin University's Bachelor of Science in Cybersecurity will train students to successfully guard networks and computer systems against threats. At the end of the program, they will be able to provide critical protection of IT assets from unintentional or unauthorized loss, modification, or disclosure. Moreover, they will be able to effectively respond to cyber threats with state-of-the-art countermeasures and tactics.
This online cybersecurity program from Franklin University teaches students industry-standard cybersecurity methodologies and the "defense in depth" approach, which provides a layered security architecture with appropriate control and countermeasures. Aside from that, this program covers topics that align with the International Information Systems Security Certification Consortium (ISC)2 certification exams. It is particularly useful for students looking to become Chief Information Security Officers, Directors of Security, Security Systems Engineers, Security Analysts, Security Architects, or Network Architects.
This program features classes in policy, architecture, management, and technology, along with a strong foundation in IT principles, including programming, systems, networks, and databases. Students will be taught the what, how, and why of enterprise security. They will also have plenty of opportunities for real-world experience by helping a local business or nonprofit organization to help them with their security needs through risk assessment, security planning, vulnerability scanning, and penetration testing.
Additionally, this program is reviewed by industry experts, like Matthew Curtin, Interhack Corporation Founder, to ensure the quality of education with a full breadth of security courses and hands-on exercises in a virtual environment.
---
Drexel University
Drexel University's Bachelor of Science in Computing & Security Technology aims to educate interested students for crucial roles in cybersecurity and computer system administration in corporate, non-profit, and government organizations. This program also emphasizes practical hands-on learning and provides students with fundamental concepts supplemented by employment experience.
This program's curriculum is specially designed for those who are currently employed in the field of IT and are seeking personal enrichment or career change. This is also ideal for working adults with associate's degrees or who have completed at least two years of college work.
Upon completing the program students become adept at designing, implementing, and evaluating computer-based systems, components, programs, and processes that meet an organization's needs. They will be able to analyze the local and international impact of computing on society, organizations, and individuals. They will also learn to utilize current skills, tools, and techniques for computing practice. Aside from that, computing and security technology majors will have a deeper understanding of the legal, ethical, social, and security issues and responsibilities of IT professionals.
Drexel's online bachelor's in computing and security technology is fully online, allowing students to take classes at their own pace. Students will also be able to choose either Computing Technology or Computing Security for their specialization.
---
The University of Arizona
The University of Arizona offers a Bachelor of Science in Cyber Operations. This program has been designated by the NSA as a CAE-CO (Center of Academic Excellence in Cyber Operations), which is a designation given to only 24 programs in the entire country. This designation is aimed at developing and managing collaborative cybersecurity educational programs with local colleges and universities that establish standards for academic excellence and cybersecurity curriculum and value leadership and community outreach in professional development.
This bachelor's degree in cyber operations features a curriculum that covers offensive and defensive cyber security content with the university's cutting-edge Cyber Virtual Learning Environment. This allows students to gain relevant hands-on experience and to improve their know-how, abilities, and skills necessary to succeed in the field of cyber operations.
At the University of Arizona, cyber operations majors will have courses that provide hands-on experience to help them master the course and learn about crucial concepts and technologies. Students will also get access to a cloud-based virtual learning environment, advanced cyber tools, and a cutting-edge virtual city that lets learners focus on learning.
Students of the BS Cyber Operations program can choose from three specializations: Cyber Law & Policy, Defense & Forensics, and Engineering. Students taking the Cyber Law & Policy concentration may apply for eligibility for the College of Applied Science and Technology's Accelerated Master's Program (AMP), allowing them to complete both their bachelor's and master's program in as little as three years.
---
Penn State World Campus
With Penn State World Campus' Bachelor of Science in Security and Risk Analysis – Information & Cyber Security, students will be able to design secure systems, ensure proper privacy levels are maintained, and evaluate and manage risks in government and business organizations.
This information and cyber security concentration program emphasizes education, policies, and technologies that protect information, people, and other assets. Pursuing this degree introduces students to the necessary skills and tools to identify the needed availability, confidentiality, and integrity of an asset, be it a facility, material, information, person, process, or structure that has value.
The BS Security Risk Analysis – Information and Cyber Security program has courses specific to cybersecurity and information that are embedded within it. This provides students with a deeper understanding of the skills, technologies, and theories associated with cyber threat defense, critical infrastructure protection, network security, and information warfare across various industries.
Penn State World Campus's College of Sciences and Technology is a leader among IT schools. It is a Center of Academic Excellence in Cyber Defense-recognized by the DHS and NSA. Its faculty is composed of a diverse group of thought leaders from different fields, including psychology, chemistry, computer science, engineering, and artificial intelligence (AI). These are the same professors who teach on campus, ensuring that online students can expect the same level of academic quality.
---
University of North Dakota
This Bachelor of Science in Cyber Security program offered by the University of North Dakota is aimed at helping students pave their career paths in the world of cybersecurity. This major will prepare students to be part of the solution as software developers, security architects, and analysts.
Through UND's BS Cyber Security, students can excel in a highly technical workforce with top-of-the-line cyber-physical security skills. It offers a well-rounded education by helping them gain the needed technical know-how and skills and a strong liberal arts foundation to work in the cybersecurity sector.
Senior students will culminate the year with an opportunity to design, test, and present a project or research plan, which will be supported by business leaders and industry partners to fill real-world needs. Aside from that, the last two semesters will give students a chance to gain practical experience before they apply for a job in the cybersecurity industry.
Furthermore, students will be able to join in cybersecurity research in various areas of strategic importance to the state and the rest of the country. They will also have access to important computer technologies and resources, as well as work in the university's Secure Cyber-Physical Energy Systems & Data Sciences Laboratory. There will be a team of academic advisors who will help them plan their major. Plus, they will have access to personalized degree map software that helps them keep track of their degree until graduation.
---
Liberty University
Liberty University's Online BS in Information Technology – Data Networking and Security is for future go-to experts for network security issues. This online degree equips students with the knowledge and skills needed to succeed in the expanding field of information technology.
This fully online bachelor's degree program will teach students to identify and solve security problems, take on real-world projects, and determine solutions in the field of security and data networking. They will also learn how to use specialized tools and advanced technology to build efficient databases and computer systems, prevent computer network attacks, and identify and address security weaknesses. Moreover, it can help grow through the quality of training provided by experienced professionals in the industry.
Liberty University aims to develop information technology professionals with a Christian worldview. Graduates of this degree will know how to converge business processes and information technology efficiently and effectively. It will also teach learners to design relevant information technology systems through consistent methods with business objectives.
Additionally, this program will also prepare students for the CompTIA A+ exam, which is the industry standard for having an established IT career. This school is a designated NSA/DHS Center of Academic Excellence for Cyber Defense Education (NSA/DHS CAE-CDE) for its BS Information Technology with Data Networking and Security concentration.
---
Oklahoma State University Institute of Technology
Earn an Online Bachelor of Technology in Information Technologies – Cybersecurity & Digital Forensics from Oklahoma State University Institute of Technology and be prepared for highly specialized work of safeguarding networks, computer systems, and computers from hackers, viruses, worms, and cyber terrorists. The specialization in cybersecurity and digital forensics program features rigorous coursework to help learners gain a holistic understanding of cybersecurity fundamentals and the crucial skills in safeguarding digital data.
Students who complete the program will be able to identify and analyze cybersecurity problems and solve computing problems successfully. They will be able to effectively investigate cyber-attacks and cybercrimes and maintain security access to data. Furthermore, they will know how to apply best practices in cybersecurity to help organizations protect their systems and networks.
The program's comprehensive curriculum covers various topics in IT and cybersecurity. These include:
Hardware Systems Support
Using C#
Operating Systems
Digital Forensics
Introduction to Computer Logic
Enterprise Security Management
Principles of Information Security
Network Security
LAN/WAN Implementation & Support
GUI Development
Web Development
All classes are taught by instructors with extensive real-world experiences in IT and cybersecurity. Faculty and staff also offer mentorship and student support services to ensure their success.
---
Bellevue University
Bellevue University's Bachelor of Science in Cybersecurity is one of the top 10 best online cybercrime programs. It has been designated as a CAE-CD: National Center of Academic Excellence in Cyber Defense between 2022 and 2027.
This program does not follow a traditional path. At Bellevue University, students can take as many courses in any sequence to allow them to manage their lives and education in the best way possible. Its curriculum is also designed to allow students to enroll in classes without having multiple prerequisites so they can start working on their professional and personal goals.
This cybersecurity program has classes that are taught by faculty members who are employed by some of the most respected security and intelligence organizations in the world, including the Department of Defense and NASA. This degree will develop students' tech skills through core courses such as Programming using C#, Cryptography, Linux, and Web, Commerce, and Application Security.
At the end of the program, learners will be able to assess fundamental cybersecurity theories, strategies, and concepts and apply them to real-world situations. They will also be able to explain technical and non-technical solutions to various types of computer systems. Furthermore, cybersecurity majors will know how to assess risk, threats, and vulnerabilities to sample computer systems and determine attributes that are associated with professionals in the field.
---
For more information, see the following: Best Schools with Online Bachelor's in Computer Programming
---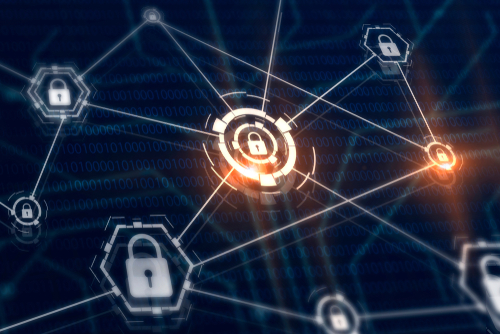 Licenses, Certificates, and Affiliations to Boost Your Career Opportunities
Network security and cybersecurity professionals benefit greatly from being members of professional associations and having licenses and certifications up their sleeves.
Being a member of professional associations in network security gives professionals access to trade publications, job listings, online journals, in-person networking events, and career development opportunities. Similarly, cybersecurity or network security certifications can give them the credentials that will boost their career options.
Here are some of the most notable professional associations, licenses, and certifications for network security professionals.
Network and cyber security professionals recommend that IT support admins and technicians start with the CompTIA Security+ certification. This will teach students the necessary knowledge and skills to install and configure systems for securing networks, mobile devices, and applications.
There are 90 performance-based questions on the CompTIA Security+ exam, which students must finish within 90 minutes. This ensures students are able to accurately and quickly troubleshoot network problems. To pass the exam, students must get a score of at least 750 on a 100-900 scale.
The CISSP is the world's premier certification for cybersecurity professionals. Earning this certification proves that students have what it takes to successfully design, implement, and manage best-in-class cybersecurity programs.
With this certification, students will have access to online training and career-building benefits, such as professional development, peer-to-peer networking, volunteer opportunities, and events.
Candidates for this certification must have at least five years of cumulative employment experience and pass the exam.
This is one of the most sought-after certifications in the industry today. The CCSP is a recognition of leaders in IT and information security who demonstrate competency in the best practices in cloud security design, architecture, service orchestration, and operations.
Applicants must show they have had at least five years of cumulative paid IT work experience, of which one year must be in at least one of the six (ISC)2 CCSP CBK domains and three years in information security, and get a passing rate in the exam to qualify.
This certification is designed for people already working in information security or IT and who want to gain more knowledge. The exam will assess IT professionals and validate their experience and expertise in information risk management, information security governance, information security incident management, and information security program development and management.
To qualify for CISM, candidates must have five or more years of experience working in information security management and must pass the four-hour exam, which has 150 multiple-choice questions.
This certification proves that IT or information security professionals have skills that meet the highest demand and confirm their abilities as information security analysts. Passing this exam will help infosec professionals advance in their careers, especially those who are looking to become cybersecurity engineers, cybersecurity investigators, incident managers, incident responders, and SOC analysts.
Interested candidates must have at least three years of experience in providing enterprise networking solutions.
Through the CCNP Security certification, IT and information security personnel will be able to prove they can effectively protect networks and data that clients value the most. This will also be an avenue for them to demonstrate their know-how in enterprise infrastructure, assurance, security, automation, and virtualization on the SCOR exam.
Candidates can choose a concentration to demonstrate their specialist skills. They will take the core exam and recommended training to be certified.
ISSA is a global community composed of cybersecurity professionals worldwide. These experts are dedicated to managing technology risk, protecting critical data and infrastructure, and advancing individual growth.
Being a member of this association gives infosec professionals access to local networking and educational opportunities through its local chapters around the world. Aside from that, ISSA membership means IT and information security experts can have better career opportunities because of the association's influence over hiring decisions.
This association is committed to positioning student members to achieve greater success in the field of cybersecurity. Membership for students is free. However, they need to participate in one of the annual student association programs to maintain their participant status.
Members get access to over 50 scholarship opportunities, as well as job portals and internship opportunities. Members can also join the training, events, conferences, and monthly webcast series.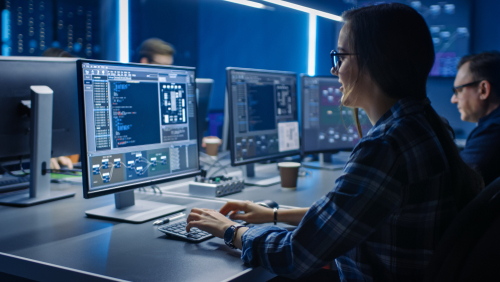 Top-Paying Jobs for Graduates with a Bachelor's Degree in Network Security
Nowadays, more and more organizations require the expertise of cybersecurity and network security professionals. Entry- to mid-level roles pay up to six figures, while more experienced professionals are earning more.
According to the New England Institute of Technology, cybersecurity and network security professionals can earn a median average wage of $94,512 in the state. Salaries vary depending on the state. Here are some of the highest-paying states for IT and information security jobs.
Nevada – $94,512
Oregon – $101,353
Washington – $94,427
Arizona – $89,188
Connecticut – $92,865
Delaware – $88,435
Texas – $87,932
Georgia – $88,021
New York – $93,193
Pennsylvania – $86,000
The demand for analyst jobs related to IT and information security is expected to increase by 35% from 2021 to 2031, according to the U.S. Bureau of Labor Statistics. An estimated 56,000 job openings are projected every year, many of which are expected to be a result of the demand to replace workers who change careers or retire.
(ISC)2 conducts an annual Cybersecurity Workforce Study to benchmark professional salaries and development goals. Based on their data, professionals with industry certifications, like CISSP, earn more.
Globally – $92,639
Asia-Pacific – $57,179
Europe, Middle East & Africa – $81,568
Latin America – $22,014
North America – $120,552
United States – $135,510
Most Important Hard Skills for Network Security Professionals
IT and information security professionals must never cease to adapt to the ever-changing landscape of cybersecurity to be able to prevent and respond to new cyber threats.
To be able to keep up with new challenges, cybersecurity professionals must develop these crucial hard skills.
Technical aptitude
Because cybersecurity is a highly technological field, it's a must for professionals to be adept in troubleshooting, updating, and maintaining information security systems. They must also be efficient in implementing continuous network monitoring and providing quick security solutions.
Attention to detail
Being detail-oriented is crucial to cybersecurity professionals. This is to ensure they can effectively detect risks and vulnerabilities. Having keen attention to detail also allows IT and infosec professionals to continuously monitor networks, quickly identify issues, and provide security solutions in real time.
Problem-solving skills
Those in the cybersecurity field must always find creative ways to address sophisticated information security issues across various technologies and digital environments. The importance of critical thinking cannot be overstated!
In-depth knowledge of security across different platforms
IT and infosec experts must be comfortable working on various operating systems, cloud networks, wireless networks, computer systems, and mobile devices. They must also be updated with the latest trends and news in the cybersecurity sector.
Fundamental computer forensics skills
Having a solid foundation in computer forensics can help professionals excel in their careers. This is because having fundamental computer forensics skills allows individuals to effectively guard any organization's digital assets and keep cyber threats at bay. This also allows them to recover data quickly and efficiently after a security breach.
Communication skills
Network security analysts will work closely with other professionals. This is why they must be adept in project management and be able to effectively communicate and explain their concerns, findings, and solutions to technical and non-technical people.
Knowledge of hacking
Knowing how networks and infrastructures are hacked is important for cybersecurity specialists to be able to effectively safeguard such systems. IT and infosec professionals must learn how to ethically hack and have the same skills and way of thinking as hackers to be able to fully understand how computer systems are breached. As a result, they will also be able to create solid solutions that will thwart such attacks.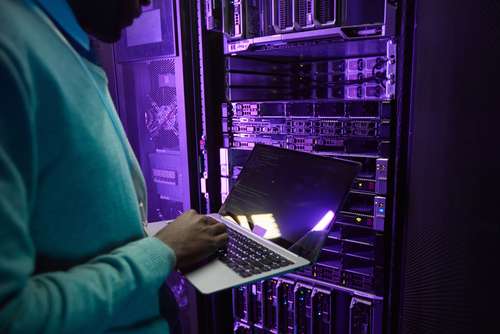 Frequently Asked Questions
What to do after earning a bachelor's degree in Network Security?
Bachelor's in Network Security online programs open doors of opportunities for graduates. However, to advance in their career, IT and infosec specialists must take the necessary steps to increase their value in the industry.
Grow technical skills through internships and part-time work.
Students who want to get their hands on real-world cybersecurity problems may apply for NSA's college internship programs. They will be working in teams to counter security threats in computer systems. There are also private corporations that offer internships for students.
Earn industry certifications.
As mentioned above, industry certifications help prove people's specialized knowledge and skills in cybersecurity and network security. Such credentials can lead to better career opportunities and higher pay.
Attend relevant courses and seminars.
Cybersecurity specialists can remain relevant and keep themselves updated with industry news and trends by attending courses, conferences, and seminars. One of the most popular gatherings of cybersecurity professionals is the RSA Conference, which happens annually to discuss the latest processes and technologies that experts use to keep various organizations safe from cyber-attacks.
To gain specialized technical training and leadership experiences, graduates with a bachelor's degree in network security should consider pursuing a master's degree. This prepares individuals for complex managerial and supervisory roles, as well as higher salaries.
What are the core classes Network Security majors complete?
Similar to a Cybersecurity bachelor's degree, the core curriculum for a bachelor's degree in Network Security or an online Cybersecurity degree program includes the following:
Introduction to Programming
Discrete Structures
National Cybersecurity Law & Policy
Network Security
Cyber Ethics
Linux Fundamentals
Cyber Security
Digital Forensics
Concurrent Computing
Introduction to Database Systems
Systems Programming
Network Administration
Wireless System Administration and Security
Data Center Operations
What are the admissions requirements for network security majors?
Admissions requirements for first-year network security majors include the following:
Professional work experience
Cumulative GPA of at least 3.25
English proficiency
Official transcripts that show past academic performance
Graduate application
Resume
Completion of at least 80 hours at the time of application
Key Points to Ponder
An online bachelor's degree in Network Security will prepare students for roles that involve analyzing, designing, and protecting computer-based systems.
An online bachelor's degree in Network Security covers topics, including firewalls, cryptography, intrusion detection systems, and virtual private networks.
A good school that offers an online bachelor's degree in Network Security must be recognized by the National Security Agency, and received Center of Academic Excellence in Cybersecurity, Cyber Operations, or Cyber Defense designations.
---
Before you go, check this out, too: